Looking for a Easy to Sew Dog Couch Cover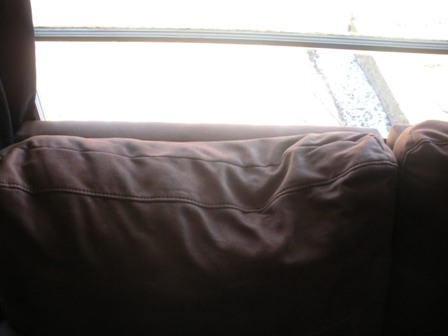 United States
February 15, 2011 12:33pm CST
I have a 13 yr old Chihuahua that loves to lay on the top of our couch which is against the window. I know she loves the heat she feels from the sun. I tend to freeze everyone to death with my hot flashes including the dog. However, not only does she shed bad, but she gets sick to her stomach sometimes and drools, so she is leaving spots on it. I am looking to make some sort of cover for the area, but I am very limited in my sewing, and it is going to have to be something that feels good to her, so I am unsure what type of material. I have put a towel over it, but she hates it and will go over to the other side. I am thinking that it will need to be somewhat heavy so it will stay when she moves or jumps down. I am clueless about how to do this, so any help would be great appreciated. Remember, it must not have that much sewing, I am not that good at it.
2 responses

• United States
16 Feb 11
What kind of surface does your sofa have? Here are some ideas you can try that you can always repurpose later if it turns out that she doesn't care for the idea: Fleece blanket (no sewing skills required) Knit cotton blanket (again, just get a piece of knit cotton and hem the edges) Very soft towel--it could be she just doesn't like the texture of the towel Small comforter (you can make a cover for it and wash it) Alternatively, you could make covers for the cushions and just wash the covers weekly.

• United States
17 Feb 11
Thanks for the ideas. I thought about the fleece blankets, because I enjoy making them, but I sort of figured it would collect the dog hair worse than normal material would. I may be wrong on that. I got the softest towel I had ( or so I thought ) but she is such a picky princess haha. I love the comforter idea. My sofa is that microfiber, which says it is easy to clean but it is not. When I try to clean it, it will leave almost like water marks, even if I barely damp the cloth. Plus it forms to body and leaves indentions in the material, even from the dog. I can't stand it, but my husband had to have it :(

• United States
18 Feb 11
I just saw a commercial on TV last night and thought of you! It was for some cover that you put over your car seats so that dogs can ride on them and keep them clean, and then you just wash the covers. I don't have any microfiber in my house (as a matter of fact I don't have any synthetic materials at all) so I am glad of it now that I have heard your problems with the microfiber. Anyway good luck and about the fleece, if it collects hair worse than other fabrics, that might be a good thing if you think about it.

• United States
21 Feb 11
Yes, I think I have seen it also. However, I had something work in my favor. I found a dog mat while digging for something in my barn, that I had forgotten I had. It is made of a soft material and the best thing about it is it has a thermal material in-between the two clothes so it warms their body. I actually had bought it for my outdoor cats several ago and they didn't care for it. But, my dog just loves it. I put it on my couch a hour ago and she has not moved !!! THANK GOD


• India
16 Feb 11
I have a 9 months old Great Dane. And its 38 Kgs in weight. Want to know whether it will grow further.