Growing up with Sin!

Philippines
February 24, 2011 9:00pm CST
If there is one personage that I am grateful to for guiding me in my youth, it is the late Cardinal Jaime Sin, once Archbishop of Manila and sidekick of the great John Paul II in the Vatican 2 council. Now, why am I grateful, when the nearest proximity I was ever allowed to view him was perhaps some 50 meters away? Well, I heard him loud and clear... He said: "Welcome to the house of Sin" while he stands on the pulpit, about to deliver his homily. And he related stories such as: 1) sitting between the dictator Ferdinand Marcos and his wife Imelda Marcos in a car, and the dictator asked
how was he?
, and he replied
I feel like I am our Lord, placed between two thieves,
and the dictator answered
At least I am the good one!

; 2) how he treated Mother Theresa of Calcutta, when she came to visit, in his kitchen in the house of Sin, where he stored many of his favorite dried fish, and while he fried some
tuyo at daing
for his esteemed guest, he was donating to the cause of Mother Theresa a piece of land owned by his brother, Dr. Sin. And it took some time before the doctor learned that his property was no longer his.

I did think that his eminence was indeed very naughty! So I laughed at his candidness... When he asked us to protect the rebels at Camp Aguinaldo and Camp Crame in 1986, I knew it was crazy. But I heeded his command, because I believed he would never put us in danger. Today, a statue in Cardinal Sin's image is unveiled in Manila, and those who walked with him are paying him tribute. He is stirring in his grave, I know, but, dear Cardinal, we are just as naughty as thou art! Rest in peace, but keep smiling!

3 responses

• Philippines
26 Feb 11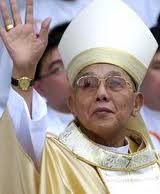 Hello Eileen, He was one of the best Cardinal Priest there is, not to mention his contribution to our EDSA Protest. i think this has shown how the catholic church people can also make a difference to the country.

clearly, one of the heroes of their time and something that SHOULD BE PUT IN THE HISTORY BOOKS within the decades to come


• Philippines
25 Feb 11
wow, this brought me back to the time when i was still studying in the seminary as a theologian. wherein, my rector is really like Cardinal Sin in his candidness and generosity...

• Philippines
25 Feb 11
I am also grateful to the late Cardinal Sin. He never knew me personally but I know some personal details about him. I am from Siniloan, Laguna and we once had a parish priest in here (late 1980's) and he was Fr. Mike Almoza. He came from Capiz where Cardinal Sin also originated, and he was said to be the person who influenced Cardinal Sin to become a priest. I am grateful to Cardinal sin because he helped me finished my High School education and most importantly he give me the faith and wisdom of God. I went to the Sisters of Mary School, a school from South Korea and founded by the late Mon. Aloysius Schwartz. It was Cardinal Sin who invited the late Monsignor to put up the same school here in the Philippines, where poor young people like me can stay and study High School for free. I'd seen, embarrassed and kissed Cardinal Sin, since he used to come to the school. He even invited us one Christmas Day (since we never went home at yuletide season) to the Archbishop's residence in Manila. God bless the late Cardinal and Monsignor. They are now with God because the good things they did here on earth.