Does it confirm it?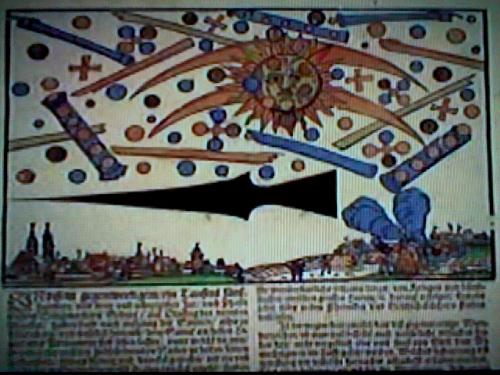 India
February 26, 2011 9:51am CST
There are a few of us here on mylot who believe in UFO and aliens and their existence on earth. However, there are so many us who are skeptical about it, recently I've found something and it actually confirms their presence on earth: http://www.alienspaceshipidentified.com/1561_april_14_news_article_on_a_full_scale_alien_spaceship_battle_above_germany For more information regarding this, you may search for the following: "14 Apr 1561 - Nuernberg, Germany" Please share your thoughts on this. Does anyone think it's a hoax?
1 response

• Japan
27 Feb 11
Great link. There's actually no way we are the only one in the universe, by a look to earth's diversity in species we can only imagine who are out there. Although ufologists say most of the evidence are hoax there are many that went through tests and proved to be real pictures and videos. Plus there are too many witness, so what, would thousands of people being lying at the same time?

• India
27 Feb 11
Hi katie0, It's good to know that you liked the URL, I don't think anybody can deny this fact and if this is true, it also confirms so many other things. I know, I don't have to explain it to you because you have already experienced such things, hopefully others will also understand it at the right time and our species will survive, otherwise, there are so many dangers that we are not aware of. If these selfish people (governments) tell the truth to the innocent public, at least, there will not be any fight for religion and people will be in peace and there will be unity all over the world.