My tree needs help.......

India
March 12, 2011 12:38am CST
My Curry Leaves tree has developed tiny black spots on its leaves. Also, lately it has stopped producing any new leaves and its as good as dead although its still green. I inspected it closely but did not find any worms or ants or any such pests that would cause it to happen. I even googled but was unable to find anything on this type of condition. I have placed the container it grows in in a corner where there is ample sunlight for most of the day. Can anyone tell me what is happening here?
5 responses

• India
15 Mar 11
I have a huge collection of these and certain times in the year they behave badly as you have pointed out but they get back. You need do nothing but wait patiently.

• Canada
18 Mar 11
Interesting as my curry plant right now has a lot of blackened stocks. As if it is dying but truth is, it just went through a cold winter. I do cut back any leggy pieces and stems that are all brown with little leaves, leaving part of the stem that still has suckers. In time it will again flourish with the Spring time upon us. I love curry also.

• India
19 Mar 11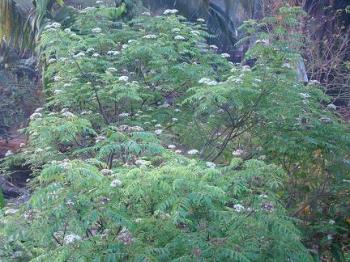 My main tree also looked as deas as a nail but now it is in full bloom, even with flowers.Please see the image

• India
13 Apr 11
Hello allknowing, your curry leaves is looking really magnificent with the blooms. Although I have seen very few curry leaves plants in India that bloom into flowers, what is it really, I mean does it depend on how the propagation has taken place. Because I have always owned Curry leaves plants and never once have they ever bloomed even when they have always been very healthy and flourishing magnificently! Or is it because I have been planting them in pots and containers? Do you know about this?


• Canada
12 Mar 11
Black spots on leaves could be a type of fungus called black spot, usually common in roses. I have never heard of such on curry and I do grow curry myself. Although it is a shrub, not a tree. Can you remove the spots by gently rubbing them off? Do you see any yellowing on the plant? This may indicate a mineral deficiency. It is rather difficult to diagnosis without a picture in order to view the palnt itself. Is it possible to post a picture online or even in your profile for us to take a look? Are the spots on the under side, the top of leaves, or both? Here is an article talking about black spots on curry plant: House Plants/BLACK SPOTS read down in the post for the final answer http://en.allexperts.com/q/House-Plants-721/2008/4/BLACK-SPOTS-1.htm Preventing and Controlling black Spot (photo as reference) Does your plant look anything similar to the photo here: http://organicgardening.about.com/od/diseases/p/blackspot.htm Additionally, Here is another discussion about Black Spots on Curry http://www.ubcbotanicalgarden.org/forums/showthread.php?t=12268 What is great about the ubc botanical garden website is that you can post your own questions, in relevant area and the pro will likely be able to help you. They are going to probably ask for a photo of your curry tree however.

• India
13 Mar 11
Hi EvrWonder, thanks for useful information! Of course I do know its a shrub, but calling it a tree has become more of habit :). Anyway, the problem with it is that the leaves are NOT turning black, but on the underside there are tiny black spots, as if they have been deposited there by some kind of bug. On rubbing, they do come off but there are just so many spots on each leaf that they are really unusable. The links that you gave me are quite good but not really helpful on this one, I will save these links for later. I was unable to take a photo because the batteries kept going off, now I have put them again in the charger. I will try to take photos again later in the day and will post them somewhere where I can show them. Also, probably because of the spots the natural aroma of the leaves has greatly reduced :( but the good part is that I saw a very small young but healthy sucker at the bottom of the pot. Do you think I should take off the older diseased plant and focus on growing this new one?

• Canada
18 Mar 11
Hm, well certainly is a good idea to take off the older diseased plant parts and focus on the newly formed sucker. I would cut it right back, get rid of all the diseased parts and maybe apply some dormant oil. Sounds to me like scale. Is there a sticky dew like residue anywhere on the plant? I have had problems in the past with scale and is really hard to combat. Sometimes it is just easier to burn the plant (so to not reinfect any other) and start a new. Sorry the links did not prove to be useful for this problem. You are most welcome and Good luck on this!

• India
12 Apr 11
Well i had this problem, our maid servant sprinkled bleaching powder over the leaves, it worked, i just wonder how, you pay give it a try kalyaniji Thanks for sharing your problem

Happy posting, cheers. Namastey.

Kalyani

• India
13 Apr 11
Namastey Kalyaniji, thank you for your response, although its doing well now. I just left it alone for a bit, kept watering it as usual and made sure it had plenty of sunlight. Now its back to its old healthy self again. Although the next time it does happen again, I will try the bleaching powder trick and see if it works. I guess I would have to sprinkle a very little bit of it or else it may damage the young stem, would it?

• China
12 Mar 11
hello friend! in this season it is happen after some days your tree will be good and start to develop.it will be good after some days so do not feel worry.take care of it.i also like tree.i like green so much. thanks a lot.

• India
26 Mar 11
Thanks dreamnishu! I just let my plant alone for a few days and Voila! Today morning, I checked it out and saw that there are a lot of young healthy new leaves on the top! It is going to do well now! :)

• China
24 Mar 11
I think some fungus or bacteria could attract your tree. Or your tree need some more vitamins because lack of iodine or vitamin tree stop to produce new leaf. Batter you go to the tree plantation office where you can explain your tree problem and i am sure they will give you some solution. So good luck with your tree!