What can you do when you don't feel like to meet with anyone ?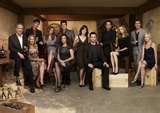 Hong Kong
March 24, 2011 7:45am CST
After so many depression and unhappy events, there are times I really love to stay alone and don't want to encounter with anyone .But in reality , you know you can't and it is not health to lock youyrself up in your own room. When situation like that happen , you knwo it is better to find someone to talk and share about your own problem, but you can njust find no one and trsut no one after you,ve been hurted otr betrayed so many times by those you have trusted before. When situation like that arise, what can you do. Share about your opinion ?
3 responses

• Malaysia
24 Mar 11
Life has ups and down. When I really faced the situation as yours, I will going around outside; take a ride to other places that I had never been. Else, I will playing my favorite basketball alone; to released my stress. Somehow, there are times where I felt sick and rather like to staying inside the room; I will browsing around the net to find some funny stories or things happen among my friends. It usually turned my feeling good.

• Philippines
24 Mar 11
This had happened to me awhile ago. I got so depressed and just wanted to be alone. I locked myself in my room and did not spoke to anyone. I know it was not a healthy thing to do, I might end up doing things that not must be done. I decided to go out of our house and go to the mall alone. Then I'm okay. I'm a little bit relieved.

• United States
24 Mar 11
I felt like this yesterday all day. I stayed in the huse and layed in the bed. I did not want to go out or anyone to come in. It gets like this sometimes we just need to move on when it passes us.