Hurt dove

Costa Rica
March 24, 2011 9:52pm CST
Yesterday, I saw my dog, playing cheerfully in the back yard, when I went to see what did he found, I realized it was a small, dove, who was learning to fly, the mother was in a tree nearby, I managed to take the little bird from him and take him home, fortunately, the bird was, not really bad hurt, a few feathers shorter, some scratches, but no broken wing or leg. With some luck, maybe it will be alright in a couple of days to fly away, as it was intented. Funny thing loking at the dog, rounding all day, the box I place the bird in, trying to get it´s prey back.
3 responses

• Philippines
9 Aug 11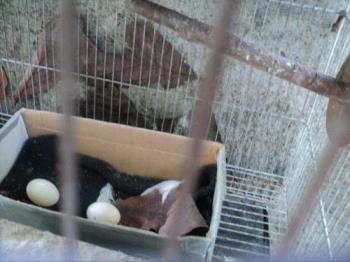 It's good you were able to save the little dove! It would be so sad if he was able to kill that innocent creature. I do keep doves at home and I love them so. I would not allow my pet dogs to hurt them too. One of them have laid eggs and soon 2 more new baby doves will fly around the garden.



• India
6 May 11
Welcome to mylot In the morning some birds come to our lawn to eat the grains given by my wife or daughter in law, once the neighbor's dog came, chased them and ate 2 of the poor birds, too bad lol Thanks for sharing Cheers. God bless you, have a nice day ahead.
Professor 'Bhuwan'.
.


• United Kingdom
23 Apr 11
It is lovely that you have rescued the little dove and the mother dove is in your garden. I hope that by now the little dove is much stronger and able to fly. I hope that your dog has some pet toys to enjoy playing with. I am delighted that you helped the hurt little dove. I really like doves and think they look very graceful.