Mark Wahlberg, my ultimate CRUSH!!!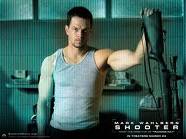 Philippines
March 27, 2011 3:20am CST
I know that he's married already but I like him a lot. He's manly, sexy, though hesn't that tall but for me his body is a wonderland... Hahahaha... Thanks for that John Mayer...

Never known a guy with a body like that... No offense to other celebrities but when he was young he is scorching... can't believe that I got a thing for him since his movie Fear some nth years ago.

What do you think? Is he gorgeous or what!?! Know some other new comers that could actually stood up to him and can compete with his gorgeous body? Haven't thought of anyone yet... Love Love his BODY...

2 responses

• Calgary, Alberta
22 Apr 17
Areyou familiar with his racist past when he was still a rapper.

• Singapore
29 Mar 11
I prefer brad pitt when it comes to bits and crunches. When it comes to muscular bodies, my heart goes out to Hugh Jackman because his body is real solid when he's playing the role of wolverine in X-men. As far as complete package is concerned, it's ultimately Vince diesel as he's real big, together with his fierce look, not forgetting his deep vocals, which makes him a real man.