Pork Stew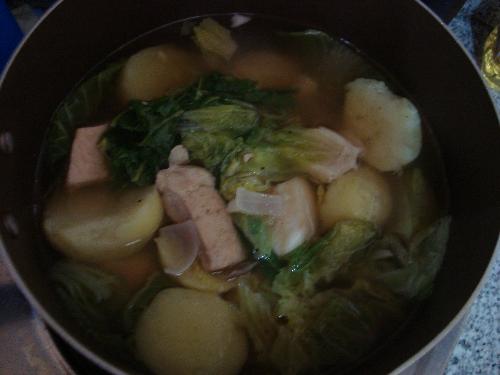 Philippines
March 27, 2011 3:30am CST
Just made my first pork stew. Loving how I'm getting the hang of being the cook here. Already tried the simple recipes of Filipino dishes. Hopefully before the year ends I've learned to cook complicated dishes.

What do you think? Should I enroll in a cooking school or venture on my own in the cooking arena? I want to enroll but money is tight these days. I guess experimenting and learning the old fashioned way will benefit me more. If you know any website (free) that I could sign up on and learn more complicated dishes please do let me know. thanks in advance mylotters. :)

7 responses

• United States
6 Apr 11
Hi. freymind. I think that you have done an excellent job at making your pork stew.

I am sure that it will turn out just fine. I am not so sure of any schools that you could enroll in that would allow you to get a more in depth training. I wish the best of luck as you learn how to get your hands on training skills. Take care.


• Philippines
30 Mar 11
I love pork stew! My mother cooks the best pork stew ever! I just couldnt compare her pork stew with anything else. its just that for me, its a heavenly taste. hhaha! I also like pork sour soup but comparing it with pork stew, I still go for the pork stew especially if my mom made it.

• Philippines
28 Mar 11
It's good that you're learning to love cooking. Women should know how to cook not for anybody else but for herself also. There is this feeling of satisfaction if you be able to cook a dish and besides we can not always have someone to cook for ourselves. Here are some links which I frequently visit if ever I want to cook and try some Filipino dishes. http://www.filipinofoodrecipes.net/ and http://www.myfilipinorecipes.com/

• United States
27 Mar 11
I'm sure it tasted very good. I would like to make beef stew in my own kitchen, though I don't have much time for home cooking. It would be a good experiment.

• Japan
27 Mar 11
Hi freymind! It makes my mouth water every time I think of it. My husband is a good cook while I'm the complete opposite.

I'm still learning how to cook their delicacy and my mother-in-law is my instructor. It's not an easy thing to do so I need to practice more. I'm glad my husband is supportive so the food never get's wasted. hahaha

. I think we don't need to enroll into a cooking school, free materials from the web and with some help from our friends will do. Good luck to us! Ganbatte ne.


• United States
27 Mar 11
You don't need a school while you have mylot and friends. I learned so many good meals out of the frends I have here. All you need to do is let them know what you have and trust me you will have someone tell you a meal you can make. I would like to know how to cook a meal for thanksgiving all by myself. I will in time though.

• United States
27 Mar 11
Good for u, everyone needs to know how to cook whether u are a man or a woman. Homecooking is alot better for u than eating a bunch of junk food & if u are eating it out in a restarant that gets very expensive around here. practice makes perfect. I never went to a cooking school & have been told i'm a good cook. Do u know an older person that has cooked along time that u could ask for tips. They would probably enjoy being ask & feeling needed besides. Good luck w/your cooking.