Juicy Mangoes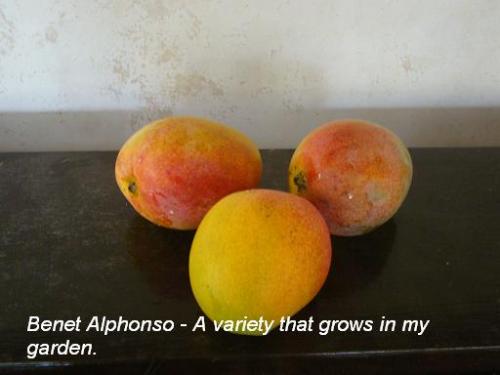 India
April 1, 2011 9:37pm CST
It is a happy season I might call it here in India with mangoes, mangoes everywhere.Wikipedia helped me get this list of Mangoes that grow in India:Chausa, Dusehri, Gaddamar (Pickle breed), Ottu Mangai (Graft), Mulgoba, Langra Benarsi, Badshahpasand, Surkha, Totapuri, Fajli, HusanNara, Alphonso, Amrapali, Badami, Bangalora, Banganapalli, Bombay, Bombay Green, Cheruku Rasalu, Chinna Rasalu, Pedda Rasalu, Roomani, Fajri Kalan, Fernandian, Gulabkhas, Himayath, Himsagar, Imam Pasand,[1], Jehangir, Kalami, Kesar, Kishen Bhog, Komanga, Lalbaug, Langra, Maldah, Malgis, Mallika, Mankur (GOA), Mankurad, Moovandan, Nattuma, Neelum, Pairi, Priyor, Rajapuri, Raspuri, Ratna, Safeda, Sammar Bahisht, Suvarnarekha, Totapuri, Vanraj, Zardalu, Alampur Baneshan. My own garden has 6 varieties but this time only two have yielded - both my favourites.I just look forward to the morning and delve into the mango basket where they have been kept for ripening.Besides eating them, I use them to make ice cream and juice. The pulp is preserved as it can be used throughout the year. What's your experience with mangoes?
2 responses

• India
2 Apr 11
Hello allknowing, Here we are getting only raw mangoes and fruits are yet to available in market. Now price is little high as the season just starts and I hope it will be reduced soon. Mangoes are my favorite all the time, if I see the same in market, I feel to buy the same even if the price is high. You have the same in your garden so enjoy the tastes. Is mangoes started to ripen in your garden?

• India
2 Apr 11
Yes. We are enjoying them every day. Mangoes are my favourite too.

• India
3 Apr 11
But plucking them is a problem as there is labour shortage and the labour one gets is very expensive. We hardly get any price when selling but if one were to buy them you know how expensive they are.

• United States
15 Apr 11
Mangoes, that is one of the other things I forgot to buy today at the store. This is when they are least expensive where I live and I really enjoy having them fresh. I need to get a melon and some mangoes, so I guess I will go back to the store tomorrow. I was quite old before I ever had a mango, but I love reading posts about them here on MyLot.

• India
23 Apr 11
No matter how cheap, but mangoes at the cheapest rate would be quite expensive compared to any other fruit. Here in India the prices are soaring. I have 6 varieties in my garden but this year I had just one yielding.