Did you guys see Jimmy Fallon's impression of Bob Dylan?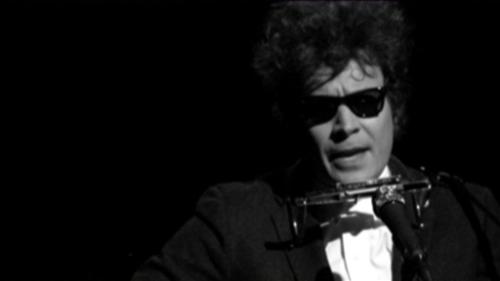 United States
April 12, 2011 7:18am CST
Did you guys see Jimmy Fallon sing the "Charles in Charge" theme songs dressed up as Bob Dylan? I am a lifelong Dylan fan and I loved it! I was laughing hysterically until tears were streaming. The lyrics seemed so truly profound when sung oh-so Dylan-esque! If you saw it, what were your thoughts? If not, go find it on hulu and watch it. search: late night with jimmy fallon bob dylan and THEN give me your thoughts! Look forward to hearing from you guys! Cheers!
2 responses

• United States
13 Apr 11
I had to see it as soon as I read this. I can't believe that's Jimmy Fallon. I thought Bob was singing from off stage while Jimmy was lipsynching. I have a newfound appreciation for the guy now. And now I want to listen to a Bob Dylan album. It's been a while.

• United States
12 Apr 11
I didn't see it on TV, but here it is again: www.latenightwithjimmyfallon.com/blogs/2011/03/bob-dylan-sings-the-charles-in-charge-theme/ Jimmy Fallon is pretty funny when he does his artist impersonations. He is right on and funny as hell.