What do you think of the dating for single webiste business ? Is it good or bad?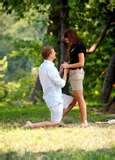 Hong Kong
April 24, 2011 4:28am CST
I have just heard of a news that on of the largest single dating website is trying to make itslef to the stock market. Although I don't know about the name of the website(It sounds like that it is a website from China) but franly speaking, I am not support on website like this. Why? I think as an internet marketer, I think I will try to make money online .At the same time I do admit that the single group need more social activity in order to find the next half for them.The only thing I I don't feel comfortable about those single dating website business is that how can you trust somebody that you don't even know or you have never seen before for your future marriage. Some can be even worse that it only try to link up some kinds of physicle relationship or business as well. That's why even I want to make money, I don't want to do business like that.Course I don't wnat anybody get hurt for the rest of their life. What do you think? Share with us?


2 responses

• United States
27 Apr 11
I look at those sites but am not interested in them. I think it's better to be around the person and let them see what you are like and vice versa.

• United States
24 Apr 11
These sites may appear to be popular but it's a very one sided affair. Somewhere like 500 men for each women enrolled at the very best. Again, 499 out of 500 men are not prepared to pay for the service. I tried hosting this kind of site many years back. Very, very much traffic! But, a total waste of time for all involved!