N A T U R E - does'nt leave any ONE....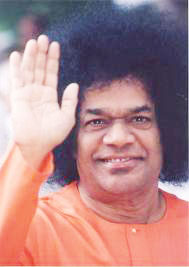 India
April 24, 2011 12:11pm CST
We come by nature and have to
go with n a t u r e.

This is nature's - N A T U R E.
Today Bhagwan Satya Sai Baba has left the world and devotees from 135 countries are in the ocean of sorrow. Not only that admirers, followers and in general public are also drenched in the sorrowful waters. [b]

Today - Let us all pray for peaceful departure of the divine soul. [/b]
Please share your comments on offering your divine prayers.
4 responses


• India
23 May 11
Yes,you have told correct - we are all friends of Jehovah only... thanks for the kind response....

• Bhubaneswar, India
25 Apr 11
Swami was a great icon and I was shocked to read the news about His leaving us for the Heavenly Abode so early. As He had mentioned that He will re-incarnate in 2030 and live for more than 90 years in the present avatar. But as you say, it is Nature. I am without words here and am pained that Swami left us so early... Not sure what went wrong Another problem (sorry as it is not related to the discussion here but concerns the many devotees, followers and me too) is will the earthly people in charge of His Trust be able to manage it the way it was all managed in His earlier birth - Shree Shirdi Sai Baba? I hope they do not end up fighting amongst themselves.

• India
23 May 11
Dear thesids,Sorry for the much delay in giving the response..due to lack of time and concentration on the subjects. These days getting busy with so many things. Yes,let us come to the response part - any great person on this beautiful world should go away it is for true.Cause for going aways is designed by HIM. We are all binded with KARMA---- s the saying goes " Karmani bandhini manushya loke" Trusts are designed by humans and there are many chances and varying opinions with diverse persons hence,no control on that. All have to honor SWAMI and see that it runs as it was .. these are my thpoughts....!!

• India
25 Apr 11
Swami has left his body on Easter, the day Christ resurrected himself so in one way Baba has done the same,he has resurrected into the heavenly abode.Yes it is a day of mourning for all of us and all his devotees but he has promised to return as Prema Sai, the Shakti avatar, in Mysore.What is puzzling everybody is why Bhagawan left his mortal coil 11 years before the year he had predicted, ie 2022.He was then suppoed to reincarnate in 2030.However everything has turned topsyturvy and now everyone is wondering whether he will reincarnate in 2019 or 2030, the original year.Laks of people are arriving to have a final glimpse of their revered Guru and the entire nation is plunged in sorrow at his untimely passing.One should pray that he continues to guide us even though he is no more.It is only the form that has vanished but the soul is eternal,so Bhagwan is still with us and will continue to be linked with all those who are devoted to him and to everyone who prays to him, just as his previous avatar of Shirdi Sai does to this day.

• India
25 Apr 11
[b]

Hi veejay19, very very glad to go through your so kind message on Swamiji Maharaj. [/b]Always a sayings rotaes in my mind as it goes, "Man proposes and god disposes". HE IS THE FINAL DECISION MAKER - WHO KNOWS WHAT TO DO NEXT. Our human mind has certain limitations and we cannot go beyond because that is his area. Anyhow,much can be discussed on this topic.
I just love you for, your love towards Swamiji.
As you say - Bhagwan is still with us and will continue to be linked with all those who are devoted to him and to everyone who prays to him.

Now to see this in a practical way - One should follow what every Swamiji Maharaj has instructed.


• India
25 Apr 11
This is the greatest secret which is being maintained by HIM.And no one can detect that.So, pray fervently for the well being and remember HIM always as - this life nay take its journey any moment. T
he whole world mourns as Satya Sai Baba passses away.

Thanks for your first response which I received after a long gap of 8 hours....