Getting out of the Jeepney

Philippines
April 28, 2011 8:25pm CST
Last Monday, while i was getting out of the jeepney, i noticed it slowly moving already, even if i haven't get down from it completely yet. I was in my uniform and was in a high heeled shoes, so balancing a moving vehicle will be risky. So, i stopped getting out and loudly told the driver that i haven't completely gone out of the jeep so he has to stop it until i have done so. All the passenger agreed with me , so he stopped. How could some drivers be so inconsiderate of their passengers! I believe, the driver has to stop the jeep from moving, when someone is getting out from it. Don't you think so too guys?
9 responses

• Delhi, India
29 Apr 11
Hi there!

You are right there could be some drivers, who are always in hurry and don't bother if all the passengers have alighted safely. They need to be taken to task and should be taught the importance of safety of passengers.

• Philippines
29 Apr 11
Yes, they won't stop doing that until somebody falls and report them to LTO.


• Delhi, India
29 Apr 11
It would be better to shout for our own safety, even if they are considerate.


• Vienna, Austria
30 Apr 11
hi simplyd! Many people experience same cases as you but except for people's who are always riding in there own car wherever they go some times i hate driver's especially when they are not looking to there passengers if they go down already one day when i am going to school because i have a summer class i am already late so i run so fast and get a jeep immediately so that i can go to my school asap. when it is my turn to go down i already tell to the driver "PARA" to stop a jeep . he didn't hear so i told again in a loud voice but he didn't here it so i shout!. the jeepney that i ride is full all of them didn't help me to say that "hey stop someone will go done" so i just shout because no one is helping me when i go down i like to tell the driver that if you are deaf then better not to drive anymore, i told him loud and clear but he didn't here it. I was so dis appointed because the place that suppose to be i will not walk any more it made me walk maybe 1km away and it mate me late, i was so happy because my instructor that time is not yet in the class.

• Philippines
2 May 11
Oh , that always happens to me too. The driver is too deaf to hear me say "PARA", so i will shout. He will stop but it was a long way from where i am supposed to alight. Sometimes, drivers cannot hear because of the loud playing of their stereo.


• Philippines
30 Apr 11
i hate it when drivers do that too. It seems that they are always in a hurry when the passenger is getting down and they wont care if the passenger gets injured while going down. this is the reason why i dont stnd up yet when the jeep is not completely stopped when i say "Para".

• Philippines
30 Apr 11
Actually, it stopped when i sadi PARA! But, i haven't stepped down yet, when it started moving. Nasigawan ko tuloy!


• Philippines
30 Apr 11
Yes, I agree..I have seen some situations like that but haven't really been in one. I hate drivers that don't even think of their passenger- always in a hurry.

They shouldn't start the jeep at all before the passenger has fully gone down.


• Philippines
30 Apr 11
Correct! They deserve to be shouted at , when they do that!


• Philippines
29 Apr 11
hello simplyd, Oh i also hate when this happens. As i am always with my 4 inches heels and the jeep starts moving slowly that i haven't get out ...i could yell actually. I pitied when some kids or elders went off with their balance when jeepney drivers doing such thing..they're really mean ugh! have a great weekend


• Philippines
30 Apr 11
The moment we say "Para" , the driver should also tell us to wait coz' he will park it rightly. Then, he has to see in his mirror that we have completely alighted , whether we are in heels or not, young and old alike. Whenever this happens to others, i couldn't resist saying an admonishment to the driver in behalf of the victim! He deserves that!


• Philippines
29 Apr 11
yeah i agree with you that is really a very disgusting feeling and I am a witness of that case many times, as much as possible I tried to scold the driver for doing stupid manners like that and there were even cases that they reason out that it was the woman's fault for being slow knowing that it's not a loading area. hahaha! such a rubbish reasoning. drivers especially jeepney drivers must have a proper manner or etiquette when it comes to their job.

• Philippines
30 Apr 11
True. In doing our job, one has to remember that there are ethics and good manners that come along with it. Only then, will we truly enjoy our job.

• Philippines
29 Apr 11
There's really a lot of rude drivers out there and I have lots of different experience riding jeepneys. If only there's a law about those abusive drivers...

• Philippines
29 Apr 11
Although we can understand their hurry. But they shouldn't do it at the detriment of their passenger.


• Philippines
29 Apr 11
When drivers do that, i really get pissed . I would really reprimand them. Some drivers though can't hear you because their stereo is so loud. When that happens i would tell them "ang lakas kasi ng stereo mo e."

• Philippines
29 Apr 11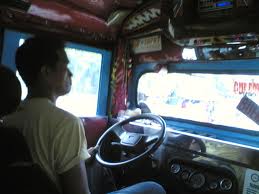 Hello Simplyd, Just a question; Have you said the magic word

(PARA!) before going down from the Jeepney? because i do go down too when the jeepney has stop. Or Another magic sentence could "Mama, sandali lang po"

(Mister, Just a moment). Because there are areas where Jeeps are not allowed to pull over and yet "some" passengers wants to the jeep to stop when ever the place is "exact" to their location and not near. Anyways, it's indeed rude if you have said the magic words and the driver seems to be in a hurry. remember their Plate number and text LTFRB (*that's why there is
hows my driving
? question) Have a Nice day.

• Philippines
29 Apr 11
Yes, i have said PARA and he stopped. But then, i am midway to getting down, he is already moving. So, of course i would get annoyed.