Washing Machine

India
April 28, 2011 10:37pm CST
I brought washing machine just two month ago. After bring it in our house I understand how much it is useful for our daily life. Before bring it in our house my wife tole me several time but i never saw any interest. I think in everybody's house it is one of the most useful machine for every members. With the help of washing machine, washing of cloths become more easy. My all family members are to much happy with this machine. After bring it in our house it always helps us in every moment of washing. My family servant are also happy because his work lord has been decreases. So we need washing machine for smooth and glorious life.
4 responses

• Jamaica
31 Aug 11
It has been a year since my husband bought a washing machine, it is very useful.To me i can now wash mean while, am cleaning the house. Before i get the machine i did have to use my hands, and wash for of the day.Now i even wash my mom clothes in it too , so that she can rest more.Its not every here can afford it,but it very useful. Even though somethings i still use my hands tow ash the small clothes,but is very useful to me an my family.



• India
31 Aug 11
Yes friend this is most useful thing because save the time and we can do other work when machine are running. I also used washing machine for washing the cloth and I have washing machine since last 7 years.

• Philippines
4 Aug 11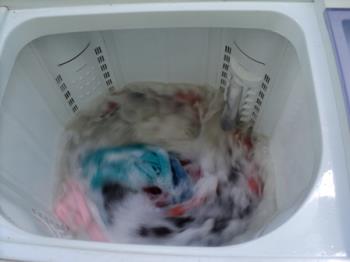 Actually I would say I am very thankful to the inventor of washing machine. This really makes my life easier. I can't just imagine sitting all day and washing piles of dirty clothes by hands. My mother used to do that when I was young and when washing machine was yet to be invented. I would not want to go through that pain. Thanks to the inventor of washing machine. Now, multi-tasking is made possible by washing machine. Imagine I am washing clothes while posting here.



• United States
30 Apr 11
I got a used washing machine almost 3 months ago. Now I don't have to make tripps to the laundry mat! Instead of doing wash once a week,I do it more then once a week! Having my washer saves me time and money! No having to save up quarters for the laundry mat,anymore! No more logging the 2 or more baskets to the laundry mat every week! I love having my own washer!