where could I got a free iphone?I just want to have one ~~could you tell me~thx!

United States
May 6, 2011 11:15pm CST
hi,there Recently,on USA or NEW-zeland street,my classmate who study here told me just everyone own a iphone~what a wonderful thing~For my situation,that just cannot amazing~In my University,barely have iphone for too expensive~ Whatevery I just want to use it and enjoy it's function,and let iphoe's vast function spread our campus~ so could you tell me where could I got a iphone?or just tell me the connect about the plugger of the iphone company(good for MSN),let ME myself to talk with them and convince them give me a present of iphone. thx~
1 response

• United States
8 May 11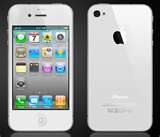 I think that Iphone are out rated. You have to have a full contract to get everything they offer. I got another phone that is almost like the Iphone and it does great. What I have is a Samsung Solstice. As far as finding one free I don't where to tell you to go for that.