Modesty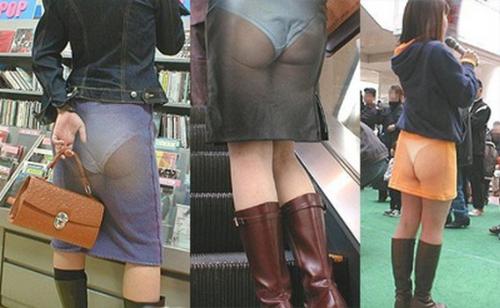 Singapore
May 8, 2011 3:53pm CST
I am following up on my earlier post about fashion faux pas jeans becoming a fashionable. Along that line, I am bringing up a very legitimate issue with these fashion faux pas with this addition of see through or translucent skirts which are being donned by young girls today. Mind you, whatever is inside the skirt is quite visible and I just do not know how you would view this but I just find them distasteful and inappropriate even when it is being worn on a casual date. Believe me, I can understand the term attention grabbing or making heads turn but I have to say that this is just asking for the wrong kind of attention - the unwanted kind. In view of this,when these apparels seems to convey a wrong message and getting the wrong kind of attention then, I really wonder is there actually any modesty to begin with here. If there isn't, then wouldn't these individuals be at the "receiving" end when a molest or outrage of their modesty occurs? Your take, ladies and gentlemen?
2 responses

• United States
9 May 11
Personally this is a thing I have always wondered about. Why there are companies out there making the really short skirts, the low low cut tops and dresses, and woman and girls continue to buy these, and want to wear them thinking nothing about it as well. It does make you wonder where Modesty really is these days, and do they not realize they are attracting trouble as well? When you show off more than you really want too no wonder some men become preditors.

• Singapore
7 Jun 11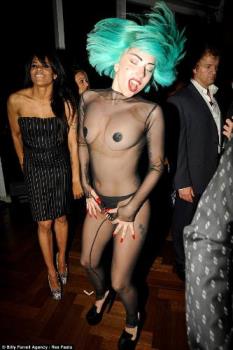 Tina, Besides the fashion houses and manufacturers of these questionable fashion wear, I think we forget the celebrities that promote such dressing or rather the lack of it. I am sure you are aware of the latest public appearance of Lady Gaga where I believe you will need to see the attached photo for yourself which speaks volumes. It is just hard when role models do not do their job here.

• Malaysia
8 Jun 11
Truly agree that celebrities is among the worst promoter when it comes to this matter. I wonder why man celerities can dress appropriately while the ladies are excited to show the inappropriate parts. There are also some group who promoting bad culture and fashions.

• United States
8 May 11
Hi sky I believe that I had commented on your earlier post and I totally agree with you. I would like to meet the parents that allow these young girls to wear that kind of clothes. Like I said earlier I might be old fashion but I would rather have my daughter mad at me for days then to have to deal with a rape situation. Great discussions.

• Malaysia
2 Jun 11
I don't agree with that skirt too so I am old fashion too~ That is what they called as modern and up to date? They are out of mind~ A beautiful body should be covered from viewers and it is not to gain more attention. It will looks like they are very cheap and shameless people~