Has anyone seen this?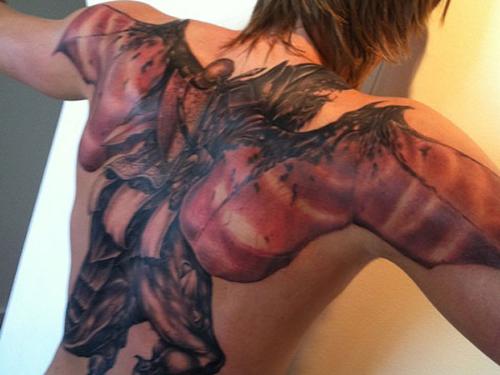 United States
May 10, 2011 12:22am CST
When I saw this I am "are they serious"! I still can't believe this! What I don't believe is the tatto that Utah Jazz Andrei Kirilenko has on his back! It covers must of his back and it is a haunting tattoo! It looks scarey and could give a person nightmares! It is down right creepy! I will never understand why people put things like this on their body! This is crazy and disturbing!!
4 responses

• United States
10 May 11
It is beautiful! But then Again I love tattoos! why a whole back piece? It varies from person to person. I used to see LA Ink and Miami Ink and I have seen people get tattoos because they want to remember a dear loved one Or to give them the strength to carry on in life Or to Go for what they want. why Andrei got this done/ I have no idea. But I Know , No one would sit for 12 hours on a whim.

• United States
13 May 11
I know people get tattoos to remember things,copy people's tattoos they admire,to play tribute to a loved one,to play tribute to their sports team,get them on dares or even when they are drunk and don't know any better! I just don't like tattoss and have no idea why he had this huge on done! He might of had it done in more then one sitting! I have heard of people having to do this!

• United States
13 May 11
A licensed tattoo artist can't tattoo a drunk person. I think a piece that large would take about 12 hours so he probably sat more than once.

• Australia
21 May 11
People do what they want. As for tattoos, it's for the person to choose to suit themselves. What is creepy and horrid to you is not necessarily so for someone else. The worst tattoo I have seen was tweety bird on the upper chest of a woman who looks like and acts like and dresses like a bloke...now that was ridiculous.


• United States
21 May 11
yes I am digusted by this tattoo and have been with others! Not all tattoos disgusted me! I never will be a fund of tattoos! I also am disgusted by the woman who cuts my hair! He has a fairy wth huge wings on her chest! She has huge tattoos on he legs! One I rememeber seeing is "Edward Scissorhands"! Some tattoss are not just digusting but not pretty!

• India
10 May 11
Hi In my place tatto are not so common and popular, but you can see some tribal women who have tattoo on the wrists, legs below knee, feet, on chest above boobs up to neck, they get it done as per their tradition using lamp black and sharp needles, a painful procedure no doubt.. Thanks for sharing about this tatto by Anderi Cheers. God bless you, have a nice day ahead.
Professor 'Bhuwan'.
.


• United States
13 May 11
I did not know that where you are tribal women have tattoos! I sounds very painful! Tattoos are painful but these sound even more painful! yikes!

• United States
10 May 11
Wow... what would ever make somebody want to put that on their body permanently? Doesn't make much sense to me, but I don't know anything about him besides he is a good basketball player, although not as good as people expected him to be.

• United States
13 May 11
I have no idea why a perosn would do this! He might regret it someday but who knows. I would love to know why he decided to get this one! I think tattoos degrade a body. I would never get one or want one!