Why blame the father when the son is the culprit?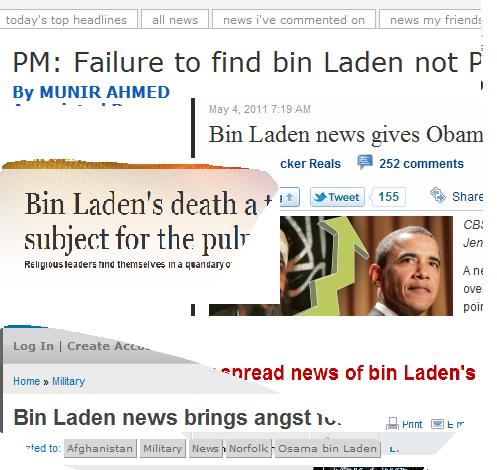 Malaysia
May 10, 2011 3:18am CST
Recently there were a hot news on the 911 master mind Osama Bin Laden had been found and killed by the US soldier. And there are many news reported on that. You will definitely find that many of them just mention about "Bin Laden" but not Osama when mention about the master mind, that is actually a wrong interpretation of the name of the master mind, the actual name of the 911 master mind is Osama, where Laden is his father's name. bin is come with the meaning of "the son of", So, Osama bin Laden actually mean Osama is the son of Laden. So, now let's go back to the news titles which mention about bin Laden and bla..bla..bla...That is totally wrong if you understand the name structure. That will let other who know the name structure misunderstand that the master mind is Laden but not Osama. So, his father is actually being accused with something that he never do. Do you think medias should learn the name structure first before they put it up for public viewing? What is your view on this?
5 responses

• Philippines
10 May 11
I wouldn't know about that. Every name has its meaning so I don't think they would care nor think twice about putting it in the media.

• Philippines
11 May 11
It implies to Osama anyway, not his father. If that's the way muslims structure their name then they don't have a choice, do they?

• China
10 May 11
each country's name structure is not completely same .so ,i think medias should at first let everybody unstand the name structure,then declare Bin Laden Osams found and mind But,in china.the book name is «Three Charcter Classic»said"To feed without severity,is the father's fault" This might be plausible

• Malaysia
10 May 11
I think the theory from the book can only apply for those older days, these day with the advance of technology and information, what the children do cannot be the father's fault anymore, children can learn many thing where they exposed to too many information that they can get it easily.

•
10 May 11
I do not agree with your analysis. This is because anywhere the name bin laden or osama is used everyone know that it has to do with Osama bin laden. The media also use his photo to buttress their points. So I do not think it will cause much missinterpretations

• Malaysia
10 May 11
From my further study the name of Laden, I found that Laden is actually the great grandfather of Osama, so how can he be blame and accused to be the master mind where it actually done by his great grandson? No doubt that everyone understand who actually the media is mentioning, but that is actually misleading to tell the public with the wrong information, and that should be corrected. Will you like it if you great grandparents is accused of something because of what you have done? Think about it and you will find the logic.

• India
10 May 11
Yes, of course, If it is like that, following the custom is necessary. However, a father can give birth to the son and try his best to make him wise and useful to the society. What is wrong of the father if a son attracts something wrong and making a way of it. There is a necessity make the people undestand these thing.

• Philippines
10 May 11
I wouldn't know about that. Every name has its meaning so I don't think they would care nor think twice about putting it in the media.