What makes you believe in God?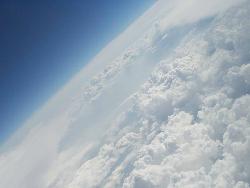 Italy
November 19, 2006 3:33pm CST
I don't know. Maybe because you believed since you were kids, or maybe you have had experiences that have made you believe... I don't believe in God and I wanted to know some opinions.
2 responses

• United States
19 Nov 06
I do believe in God. Its something in my heart that tells me he is there. By me telling you that he is there doesnt make it so. I do believe in the bible has well. I just can not believe that there was this big gang and here we are.There is to much order for there not to be.Look at the planets. How they rotate sp perfectly aruond the sun. We are not to close nor to far. And bang here we are. I just dont think so. For me, but I will not tell you your wrong.

• Italy
19 Nov 06
Yes, of course no one is wrong in this kind of opinions. But I think that we humans don't know nothing at 100%. So I don't know if there is God that make the planets rotate or something else. And so I don't believe in nothing. I say that I just don't know... Thanks for your response! Have a nice day! Bye!!! :)