Tagaytay

Philippines
May 19, 2011 11:43pm CST
This weekend we will be having our team building in tagaytay, philippines. The last time we went there, after the team building, we only got a chance to visit picnic groove. Now we are going back and we have more free time in our schedule we plan to visit more places there. My fellow myLotters, can you suggest some good spots in tagaytay that we can visit? Another is that my colleague is planning to celebrate his birthday there after the activities. Are there good bars we can go?
2 responses

• Philippines
21 May 11
I live near Tagaytay so I am quite familiar with the tourist spots around the area. Have you visited Tierra de Maria, a small chapel dedicated to the Birhen of Manaog located near Picnic Groove? It's close to the horse riding area so you would not really miss it. You could also visit the Marcos family owned People's Park in the Sky. It is located way higher than Picnic groove but the latter is much more developed when it comes to fun activities tourists would enjoy. Another area not to miss is the Mushroom Burger Restaurant located near Casino Filipino Tagaytay. You could try out it's 100% mushroom burger and brag about the experience when you get back home. A trip to Sonya's garden in BuckState Alfonso Cavite, a town near Tagaytay City would also be a very enjoyable and relaxing experience for your colleagues as well as your family.

• Philippines
22 May 11
Hello JOIEMARVIC! I just got back from Tagaytay. Unfortunately we don't have time to go out. But thanks for information. I try to visit the spots you suggested next time.

• Philippines
13 Aug 11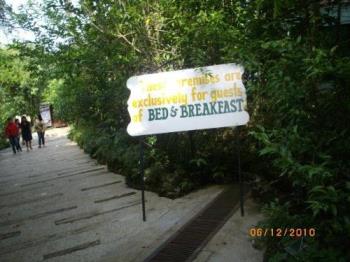 There are lots of restaurants around but I don't know about bars. Last time apart the the usual places around Tagaytay we also visited the Sonia's garden and the Bag of Beans. They are nice places. They are restaurants inside a garden and I should say I enjoyed the garden but not much of the foods. They are also quite expensive but the taste of the food are nothing really extraordinary. But the location is superb.