Rebecca Black, was it that bad? most disliked ever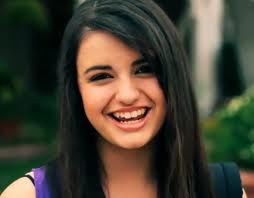 Canada
June 10, 2011 2:31pm CST
So I search up, the most disliked video of all time on youtube. It seems that Rebecca Black's song Friday has received the most dislikes, reaching over 3 MILLION dislikes on youtube. What did you think of the song? was it that bad? What if it was intended for people younger than her? What messages did you get from the song to consider it horrible? She is just a teenager keep in mind, there are many teenagers out there that may have the same mindset as her. Also are you surprised on how maturely she has responded to the critics? Are we the ones being immature about this whole song? treating it the way we have been treating it?
4 responses


• Canada
10 Jun 11
Ha Ha, it definitely gets annoying. Well, her voice is just very annoying. And yes i agree she is not a great singer. I mean she was what like 13 years old when this video happened? Also, i am not sure but the song was written for her by a company. There was like 12 girls along with Rebecca that got this opportunity from the company to sing a song and make a video. I forgot what their you tube channel was called but, they were all very bad and child like songs.

• Portugal
19 Jun 11
a good song writter????? a kid of 5 years old could invent that song because she is trying to teach the little kids the days of the week "today is friday. "tomorrow is saturday and sunday comes afterwaaaaaaaards..." LOL she became famous because of the letter of the song, not because of her voice (which is also bad, but if all the bad voices had all this fame it would be crazy...).


• United States
12 Jun 11
I really feel bad about it though because really, her song is just terrible. It's annoying and, the video is also worse.

• Canada
19 Jun 11
Ha ha, well good news today. The video has been officially been taken out of you tube's archives, and no longer watchable. Perhaps other websites out there may still have it, but it is definitely off you tube. But as I mentioned above, as a media attack, they were very successful at getting people to talk about it. Good song or not they may have achieved there purpose as her name is now very well known. We can only wait till her name finally disappears from peoples mouths.

• United States
3 Jul 11
I think it's just a bad song in general. With lyrics that just state the obvious, such as tomorrow being Saturday if it's Friday, and the day after is Sunday, it doesn't give you much feeling as a song is supposed to.

• Jacksonville, Florida
2 Jul 11
I don't think it was good either but I do have to say that the guy in the video with her apparently told her it would be a big hit and she should do it and he would make her famous. I think that was so mean to get her hopes up like that and lie to a child the way he did. Especially over something so big. I feel bad for her. The song is too fast to tell if her voice could be good. I have an okay voice but when I sing faster songs (that one is super fast) my voice doesn't sound as good. Plus, she is a young girl...Time will tell if she will be good someday.