Don't ask me how, but Tiger is missing.

Canada
June 14, 2011 8:11am CST
I went in to check on Tiger this morning and I noticed that his litter box hadn't been touched since I cleaned it yesterday. I had told my husband not to vacuum in there as Tiger didn't need the stress, but he did. And now, Tiger is nowhere to be seen. I've searched that room high and low, but there's no sign of him. I wonder if somehow he bolted when the vacuum was running. I don't know where he would hide in the house with the other pets, he doesn't like them at all. I'm really worried as I have to leave for work soon and I have no idea where to find him. I need good vibes right now and all the prayers that I can get that he hasn't somehow escaped or isn't lying dead somewhere in the house.
11 responses

• United States
14 Jun 11
If there was a door left open by any chance, he may have gone out that way. Vacuums scare cats, especially one as scared as this one has been. There are too many hiding places in a house for a cat to be. You will need to search grid-style. Start at the corner of every room and look everywhere. Good luck.

• Canada
14 Jun 11
I will be yelling at my husband later, that's for sure. Not only was the bedroom door open, but the door to the basement as well. I'm happy to say that Tiger is back in his room, I found him in the laundry room hiding under the sink. My roommate scared him out from behind the washer and straight into the waiting carrier, where he put up no fuss. He's a little rattled, but otherwise safe. I know he'll be wolfing down his breakfast since he hasn't eaten since yesterday.

• United States
14 Jun 11
I am so relieved to know that he turned up so quickly! It sounds like he was happy to go back to the safety of that room and the cage. Have a great day!!!


• India
15 Jun 11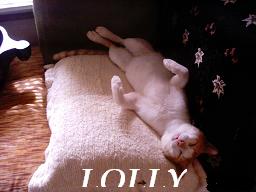 Our Lolly disappeared three years ago only to present himself a few days ago. But Preiti our pet dog never let him in and so I see him roaming around. He must be having a home somewhere as he looks well fed. Tom cats are noted for this kind of behaviour. I only hope your Tiger returns but does not take 3 years to do so!

• Canada
15 Jun 11
I found him shortly after I noticed he was gone.

• India
15 Jun 11
Actually this little fellow did not belong to me. He walked into my life when he was a wee bit and all of us instantly fell in love. He stayed with us for a pretty long time. I have so many pictures of him.

• United States
14 Jun 11
Since I had seen later posts about Tiger, I figured I'd look at this one and see where he turned up. I'm glad he's doing so much better, and even more glad that you found him so easily... I remember in March of 05, Taj got out in a Great Escape and it took almost a week to find him, he had spent the time up in a tree in the back yard (he was 4 years old and never climbed a tree before, and the chow in the yard on the other side of the tree kept him scared up in it.

• Canada
15 Jun 11
I'm just glad he turned up. I was so worried, but all for nothing thankfully.

• United States
15 Jun 11
I think that in addition to being scared, Tiger just went somewhere to prove he could.

• India
14 Jun 11
You are talking about Tiger ur pet dog. Nothing will happen. He should return back. have a good day.

• India
15 Jun 11
OH meow meow. nice. What happened has he returned or not? I am concerned.

• United States
14 Jun 11
I was relieved to see your further posts today and then to come back and read here. I did not even know what to say last night when I read this. Or this morning. Whenever it was that I had read it. I know I get upset when my cats are not where I expect them to be.

• United States
14 Jun 11

I almost started to tear, then I read your comment that he was found in the laundry room. Whooish, what immediate thoughts crossed my mind. On the flip side, he is certainly doing much better as he either ran out and or walked out so the leg must be doing way better now.

• Canada
14 Jun 11
Definitely. He gets around much easier now that his leg is healing. He bolted out of the carrier when I tried to turn it and puts full weight on the leg, which is a good sign.

• Canada
15 Jun 11
On no, that's terrible!!! I sure hope you find him soon, and that from now on your husband will LISTEN when you tell him to do something, or not to do something. LOL Drives me nuts when people don't listen, and then something goes wrong. It also serves the person right for not listening, but it's sad when others have to suffer because of it.

• United States
14 Jun 11
I am so sorry to hear this! I dont pray but I will be sending good thoughts your way that you will find him and that he is safe. I cant imagine losing a pet so I really hope that you find him soon. I would try checking every nook and cranny of that house to see if you can find him. Hes probably hiding in a place that you wouldnt even think to look. Good luck! :)

• United States
14 Jun 11
That's awful! I'm sure that he will turn up somewhere in the house today, scared but in good health. Don't lose hope. You will find him when you get home from work. Try not to worry! Have a great day!!!


• Bulgaria
14 Jun 11
Be calm friend.a cat can not lose it knows its way.And I will always return just calm can is lying somewhere not want to return for a moment.Rest assured friend will return. nice day!