they died because of typhoon ondoy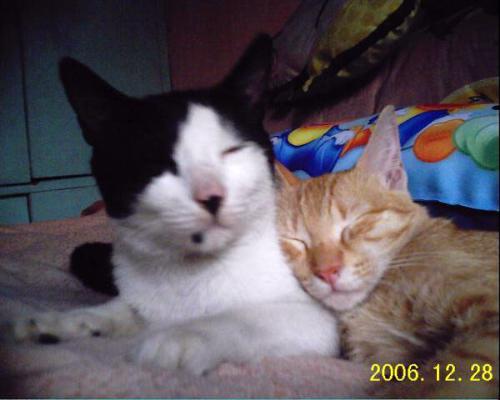 Canada
June 30, 2011 5:45am CST
these are my two cats they passed away together with my other 3 cats, cause of the big typhoon ondoy last september 2009, i was at work, i felt guilty because i wasn't able to help them, after the day of that typhoon me and my family came back to our home, our house was ruined, everything we had was ruined, then i just saw my cats dead coated by mud cause of mud flood, i didn't expect that the flood will be at the 2nd floor level in our place. is so sad to see that my 5 loving cats died, i felt that they rescue our lives instead of my family members, i thank my cats for saving my family and me, i will never forget them.
2 responses

• Boise, Idaho
3 Jul 11
I am so SOrry to read this about your animals. I have never been through something like this so I can't imagine what it was like. To come back to your ruined home and find these loving pets of yours in such a conditions. How horrible! I bet you are glad to atleast have these pictures. I would like to give you a big hug.


• Boise, Idaho
4 Jul 11
It is times like that that people really show themselves for who they are.

• Daytona Beach, Florida
3 Jul 11
I'm sorry to hear about your loss. Natural disasters are cruel in this regard. This rings especially true for typhoons and hurricanes and anything that can cause flooding. Water can demolish a place so it's not entirely inconcivable that flood waters could reach your home. Again, I'm sorry to hear about your loss, but you and your family are safe. I know not really that much of a consulation, but I don't know what else to tell you.

• Canada
4 Jul 11
yes it was a normal rainy then suddenly flood goes fast.we dont even carry anything except to what we wear that day.