My puppy is sooooo picky!

July 1, 2011 10:35am CST
Well to be honest she snot really, it's me.. my dog Pixie needs a new bed.. badly lol! she ended up wrecking her bed, and then slept with me and my partner [shes only little] but now its got to the stage, where even when we are watching tv she always wants on our knees etc, because she doesnt really have anywhere else of her own to go.. and i'm completely torn. i loveeee leopard print, and i don't know if i should get her a big furry leopard print bed, or a pink princess bed :) lol.. as ridiculous as this is.. help me pick! lol!
1 response

• Romania
5 Jul 11
It's not Pixie who needs a new bed because I'm sure she feels sooo great on your knees or in bed with you and your partner!

It's you who needs a bed for Pixie. So I suggest you to buy her a bed that suits the main color of the room where you put it. It is not sure if Pixie will sleep in it (once she got used to sleep in bed with you, it will be difficult to change her habit

) so, at least, the little bed should not spoil the color-balance of your room.

•
19 Jul 11
well i picked a pink one, with a soft bedding, and lovely pink blanket. she doesn't sleep their at night, still prefering our bed. and she likes our knees too. BUT there is success, during the day she lays there and has a wee snooze, and lol it has now two uses, as the cat likes to take a snooze in it too, and sometimes the both of them get in it together haha :)

• Romania
21 Jul 11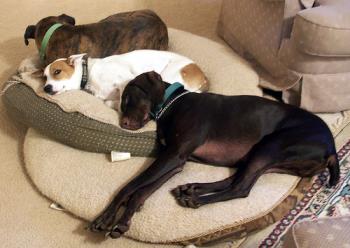 Wow! You're so lucky they get along so well! There are not too frequent the cases when the dog and the cat sleep together. I'd like to see a photo of them sleeping together in Pixie's pink bed.

So she doesn't sleep in bed with you because she doesn't like her new pink bed, but because she likes to be where you are. Dogs like to sleep together with their pack.

•
21 Jul 11
awww that picture is adorable! i like the way they are different sizes. she loves her pink bed, just not enough to get out of ours at night lol! i'm going to star a discussion about cats and dogs and i'll post a picture there :)