Night or day?

India
7 responses

• Indonesia
5 Jul 11
I prefer the morning. Cooler, more comfortable to move and exercise. And, Bask 15 minutes in the morning, also will provide so many benefits for baby. Newborns generally have a tendency to yellow because his organs were not functioning perfectly in processing bilirubin. This is called physiological yellow. Well, the morning sun has a blue light spectrum that are useful to reduce levels of bilirubin in the blood. Usability Next morning sun is warm the baby's body while helping to remove the mucus from her throat. As a result, breathing babies who are less good, especially the talented allergies, can be reduced. Especially if he is dried in a supine position, the baby's chest, from the bottom to the neck, patted it gently. Do not forget, in the morning sunlight also stimulates the formation of vitamin D in the body. This vitamin is known to function as an opener to be easily absorbed calcium into the blood stream, until finally united in the bone. Exposure to the required need not long, just about 15 minutes in the morning.

• India
5 Jul 11
Those were some really nice facts. I had my morning walk with my dog and its the best half an hour of the day. The sun is about to rise and yet you can see everything. You can slowly feel the air getting warmer.

• United States
4 Jul 11
I have always been more alive at night.I love the stars and the quiet of the night time..

• India
4 Jul 11
The night is some different place where people do not record what we do and do not need a behaviour just like we need to be aware of the cameras in reality shows...

• Denmark
31 Oct 11
I have had several jobs where I worked at night and slept during the day, and it was pretty easy for me to get used to that lifestyle, because I am a night owl and I like to work or be active during the night. At one point my ex-boyfriend and I both worked at night, and it worked pretty well. We were able to spend the evening together before we both went to work and during the day we both slept. Even when I don't have to work I like to be active during the night and when I write I often find it easier to write at night.

• Philippines
20 Aug 11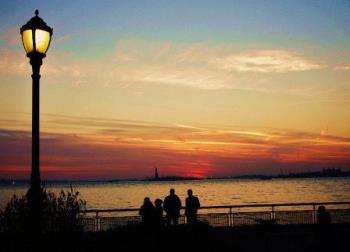 I like the view of heaven when the sun starts to set. I love to see the beautiful combination of orange, yellow and black colors up above. When the sun finally sets, I love to still look up above to gaze at the beautiful milky way, the moon, the millions of stars and all heavenly bodies. And one more thing I love about night is the opportunity to retire after a long day of work. But if your will ask me which part of the day I'd prefer I would say I love very early morning more. I love to wake up while it is yet dark because the natural cool breeze uplifts my soul. It is during early morning that I could feel that indeed every morning has new blessings. I also love the serenity while all others are still asleep. I am always taking advantage of that serenity to commune with God. I also love to to wait till the sun rises. To me this is one happy sight because it signals the coming of another beautiful day.

• United States
10 Jul 11
Acting James Bond? how? I was born at 1am and I have been a night owl ever since! I prefer the night. It does have it's own feel.For me it is the best time to see movies.

• Sri Lanka
8 Jul 11
your question is not clear dear. but to add something to that I also prefer night to work that the day time.