Cesc Fabregas to barcelona?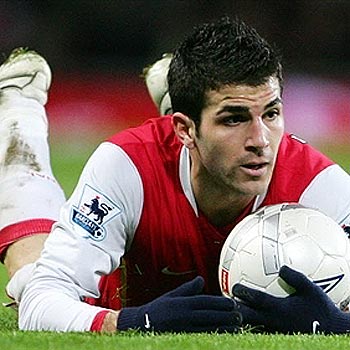 Spain
July 5, 2011 8:55pm CST
Do you think Arsenal's captain is going to make the big jump to Barça? Me, as a Barcelona's fan, I really want to see him play for the team of his life, but I know they gave him a lot in Arsenal that Barça could not offer him some years ago and probably he wouldn't be as good as he is today if he had stayed in Barcelona... Also I think if he does not come this year, I will not come, or at least, I will not succeed in Barça, because he will be 25 and some players from the younger teams will start pushing, and will not have the time to get adapted to the team and they just might think he isn't good enough like Xavi or Iniesta... I'm not sure if he will come, I this sunday he travels with Arsenal to Asia, is for sure he will not come so... What do you think that will happen? And what would you like to happen? Cheers =) D
4 responses

• Romania
8 Jul 11
I think that the place of a Catalan player is at Barcelona, especially if he was raised by the club. I am not a Barcelona fan, but I like to see players to play at the club which they love. Cesc is a tremendous player, Barca is a tremendous club and they belong together.

• Malaysia
6 Jul 11
Finally, a good football/soccer discussion. I'm an avid football spectator and football player myself. The news of Fabregas' supposed move to Barcelona brings both tears and joy to Arsenal and Barca. From a neutral perspective (I do not find myself supporting any clubs), this trade represents an investment of the future for Barcelona as their midfield maestros are aging, though not diminishing in skills. Barcelona should be willing to part with large sums of money for superstars of Fabregas calibre to bring in fresh blood to the aging team. Yes, I do believe the trade will happen, but as I mentioned earlier, only if Barca are willing to pay large amount as Fabregas represents the smooth flowing football style of Arsenal and it would be foolish of Arsenal not to capitalize on a profitable opportunity.
• Nigeria
6 Jul 11
Cese fabregas is a good mid fielder, i like him as a player as Manchester united fan i would even prefer to have him in our club but since his dream is to play in Spain. i prefer he play for Real Madrid instead of Barcelona... Yes Barcelona already has good mid-fielder were he will not be given much opportunity to show his talent... Madrid is the best team for him, he will has all the opportunity... :o

• Singapore
6 Jul 11
As an Arsenal supporter and I would like to see him go. It is very clear that his heart is no longer with the club. It is also very obvious that he had become disillusioned with the North Londonders. Arsenal should just sell him now and use the proceedings to improve the thing. Beside this, it is very annoying to see Fab dominating the headlines every transfer season. It does not help that almost all of Barca's players is urging him to return. To me, this is plain tapping but yet UEFA is not taking any action. The solution is to sell him but having said that, Barca shld pay the right price. It should be Arsenal, the selling club, that set the price for the player. If Barca cant pay up, then they shld just leave. Secretly, I hoping the likes of Real Madrid, Chelsea or Man City will start bidding for him.