forrest gump

India
7 responses

• Philippines
17 Jul 11
its a must see.. i think i have seen it thrice already..the first time was when im still in high school..i never get tired of watching it.. i dont know if ive lost the book the movie was based from or i just i borrowed it ha ha..but theres a big part in the book that he was supposed to travel in space but landed somewhere in this planet instead...you should watch it.

• India
17 Jul 11
thank you very much for your post. I feel like a child who was going to see an elephant for the first time..

• United States
17 Jul 11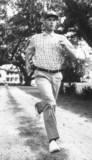 Oh,you have got to see this movie! When it first came out and was in the theatre,I didn't know much about it,but my boys,who were young teenagers then,begged me to go see that one.So,I did and was so glad.Tom Hanks does such and incredible job in that movie that I said to my boys,"Who was that actor?".When he is in that movie,he is Forrest Gump!

When it came out on video,I was the first one there to buy it.

I cannot believe you have not seen it.

You have to see it.

• India
17 Jul 11
"Heard melodies are sweet, but unheard are sweeter", a quote from John Keats. Am i right my dear friend?

• Philippines
29 Aug 12
The movie has a moral lessons, that we need to live for a reason.

• Philippines
6 Dec 11
I think you should jomzdsign :) It's a good movie, very heartwarming with a lot of humor too. :) Tom Hanks is brilliant at what he does best, which is acting. His character or role was hard but he acted it almost effortlessly. :)


• Bulgaria
19 Jul 11
It's a great movie that everyone should watch, regardless of age and gender!