Why do you like french fries and do you also have any complaints against it?

France
July 22, 2011 12:24pm CST
Guys, what makes very interesting in having french fries very often? I have only one reason, its really tasty and it gets doubled or more than that when the salt is added to correct composition. I have had french fries in many places and I loved it only at Mc D. they way they prepare it and the crispiness here is simply incredible. I visit Mc D every weekend to have the fries, of course I would have the meal where in I get the burger and the cool drink. I also purchased the french fries from the market and ask my mom to prepare it when I don't have time to go to Mc D. The only complaint I have against it is I'm really used to it and have no solution to stop it from having. Infact, I'm enjoying my time having fries every week. Cheer guys and Happy Fries!!!!!
2 responses

• Philippines
13 Aug 11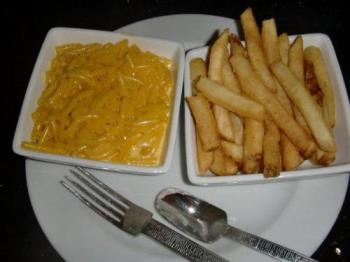 I love french fries and I do cook mine at home so that they are fresh and free from harmful additives which most fries in fastfoods do have. What I like about french fires is it enjoyable to eat. I love finger foods and french fries is one finger food that is really quite addictive especially if matched with a good tasting dip.


• United States
22 Jul 11
Mcdoalds has good fries.My favorite french fries are the ones i cook at home.I like fresh fries with season salt on them...