What Macgyver scene do you still remember till today?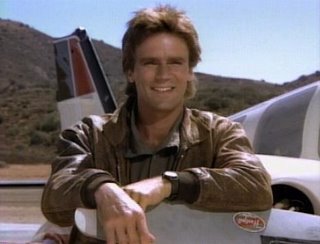 Indonesia
July 23, 2011 7:03am CST
As a kid i growing up watching Macgyver tv series, one of the scene that i remember was when Macgyver stop an acid from leaking using a chocolate bars and when everytime his bigest enemy Murdoc lost a battle, he always scream MACGYVEEERRRRR... So, for you who grow up with this tv series, what is Macgyver scene that you remember till today?
3 responses


• Indonesia
24 Jul 11
i guess there isn't much of this tv series fan in this forum...

• Thailand
25 Jul 11
I don't remember any specific scenes but I remember the series. It's very enjoyable to watch. My husband and I actually watched a few episodes in Youtube the other day. We both agreed that the effects before was hilarious today but the storylines were definitely good still

.

• Philippines
23 Jul 11
I can still remember this TV show but couldn't anymore make 1 particular scene of it in my head, I was only 3 or 4 at the time. What I can only fetch to say about the actor is that he was very genius on improvising or turning things, simple materials into very effective, valuable devices whenever the situation gets worse or if he's in distress, a sort of James Bond-ish talent and ingenuity.