out of stock. out of production.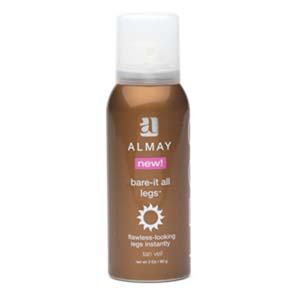 July 28, 2011 6:46am CST
don't you just hate it when a product you love and use on a regular basis becomes majorly out of stock.. or worse yet, entirely out of production? i used almay tanning veil on my legs religiously. my body and face gets a good tan, but the lower parts of my legs, from my knee's toward to my ankles, don't tan as well as my thighs and feet, and fake tans annoy my skin, so almay tanning veil was my perfect solution. you prayed it on, it gave you an instant tan, it was hypo-alergenic, and for senstive skin, and best yet, it washed off, but didn't transfer onto clothes. it was very cheap priced at only £1.99 for a small tin spray. it started to go up in price dramamtically all of a sudden to £2.99, £3.99, even £4.99.. but it was my only solution so my lower legs matched the rest of my body. it came in 3 shades, dark, warm, or light.. and suddenly, you couldn't get the dark, then you couldn't get the warm and eventually all you could get was the light, which i had to then dust over with brozner to make it as dark as the rest of my skin, which at the end of the day seemed pretty pointless aside from the fact the tanning veil did create a barrier between my legs and the harsh tanning dust. then you couldn't get it anymore. anywhere. it just ceased to exist. i have searched high and low for it, i checked all the chemists i used to use, i checked the bigger stores, i checked beauty whole-salers, i've searched online, even ebay and amazon, and apart from one bottle, thats been used, priced at £8.50.. the rest are out of stock. i can only assume almay stopped making this product, which is a real shame because it is something i bought relgiously, and to be quite honest, my sales alone should have kept them in production for months lol! have you ever had a product you loved, and couldn't live without, that they just stopped making?
1 response

• United States
28 Jul 11
Yes! I used to shop at Bath and body works for lotion. I bought some in high school that smelled like cotton candy and had shimmers in it. I always got major compliments on it and my boyfriend loved snuggling close on the couch when I wore it. I eventually ran out and went back to buy more. They were out so told mento come back in a couple weeks for a new shipment. I did but then they told me that the product was seasonal so I waited till Christmas and went back. Guess what? They told me the cotton candy lotion was discontinued! What the crap! This has happened 2 other times there with 2 other lotions I had grown to love. I stopped going to bath and body works because now all their lotions smell like crap. Too strong and old grandma smelling. I am so disapointed!

•
28 Jul 11
well that sounds a lot like a product i use, called soap and glory!! look it up.. the have a body lotion, that you actually spray on like a mist, and then rub it in.. smells just like candy floos and has a shimmer to it.. and nearly all their products smell like candy floss [cotton candy] .. they have lip balms, lotions, mists, sprays, even do makeup, body wash, body scrub.. lots of stuff!! look it up online! or on ebay!! its amazing!!!