Angry Birds

United States
8 responses



• Philippines
29 Jul 11
I played Angry Birds before but I'm not addicted to it. I'm not a big fan unlike my friends who are totally into it. I still prefer to old Plants VS Zombies than this one.

• Philippines
1 Aug 11
I'm still playing plants vs zombies too till now. But I also want to try this angry birds, I think this one is also good because I heard many good comments about it.

• Philippines
29 Jul 11
I am not playing the game but I saw my brother playing one of those. He still does not share the game. Is it really nice? Why are Angry Birds popular? who created them?

• United States
29 Jul 11
I dont know who created that one. But its a good time pass and fun

• Philippines
1 Aug 11
I heard it already to many people, they said that this game is good like plants vs zombies. And because a discussion about this game, maybe I'm gonna play it later to my laptop. I will search the installer later after I finish here in mylot, anyway what are the villains here? Cause its obvious that the birds are the heroes that's why it called angry birds. =)

• United States
1 Aug 11
sure try it and let us know how u liked it.. Thanks for responding

• Philippines
29 Jul 11
I played it and I enjoyed it. My sister and I would always take turns if we can't get past a certain level. I find it really fun and it makes my brains work. lol! I mean, we have to play it strategically and accurately as well. :) And the graphics(no matter how grumpy) are so cute! :)

• Philippines
29 Jul 11
I do play angry Birds. It's cute and has a decent graphics.Though some people say that only kids can play it. It is still great for grownups since the it requires tactics and accuracy specially with those little noisy birds there=D

• United States
29 Jul 11
You said it Javelin. Thanks for responding and happy playing

• India
29 Jul 11
I don.t play angry bird.i have listend many time abt this apps bt i never try to play it.i don.t think i would like this ANGRY BIRD.

• United States
29 Jul 11
Thanks for your response and have a good day!

• Philippines
22 Aug 11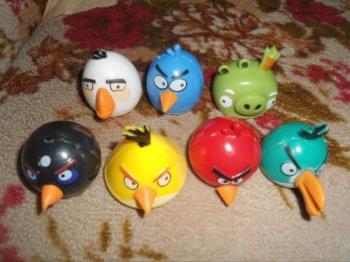 I think playing angry birds is for kids only. My kids love playing angry birds a lot. I do allow them to play for an hour after that they have to stop. I had to restrict their playing time in the computer so that they won't waste so much times. I think angry birds has become really popular. My kids even collect angry birds items actually.