I Don't Feel Like Celebrating It ^_^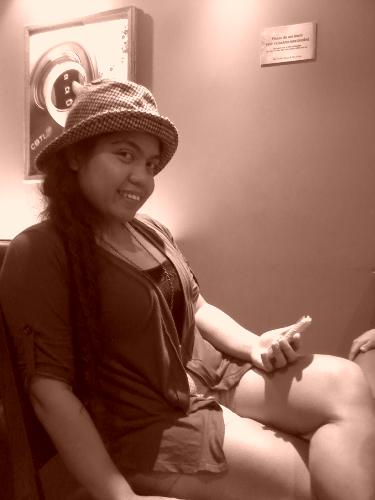 Philippines
July 29, 2011 12:34pm CST
hi mylotters, I don't know why I am not excited today Though I am happy but something is there which I don't know My friends tried to convinced me to celebrate it but I don't feel like celebrating it Am I too old for this?

Like I always do I will visit a church and lit the candles with the corresponding numbers of my age. I turned 26 today and I am thankful that he added another year in my life

Wishes to those who is celebrant today What do you usually do on your birthday? happy mylotting

9 responses


• Philippines
30 Jul 11
perhaps it's the difference in timezones shiby. when bhabycatch posted the discussion, it was well into july 30th already in our region.


• Philippines
30 Jul 11
hello shiby, Myles already answered your confusion You always got a problem with time

Rose? it's not my name


happy mylotting

• Philippines
30 Jul 11
@
myles


Shiby always having problem with time



• Philippines
30 Jul 11
Oh my,my dear friend,now I'm late in greeting you,yay!

Last month I was early 'cause I thought your special day is June 30,hehe! And now,if I haven't read your post,I wouldn't be able to remember it,forgive me,huhu!

HAPPY BIRTHDAY MY DEAR FRIEND! Cheer up!

There are really times we don't feel like celebrating our special day! But you are still young bhaby so enjoy it while you're still at 20's,lol!

• Philippines
31 Jul 11
hello mtr, it's fine

I had blast last night some friends and jaiho surprised me

happy mylotting

SEE YOU SOON

• Philippines
30 Jul 11
hey goddess... this is your day, celebrate it as you prefer to... not how others want to. the important thing is what makes you happy. a celebration need not be filled with lots of goodies and treats and with a feast. because even without those trimmings, the big day will definitely come and soon shall pass whether we like it or not. hehe birthdays come and go. it isn't the day itself that makes it special but how well we spend each day. it becomes even more special when shared with the people who we love and who loves us.

on my birthday, what i usually do is have a quiet day (church and a wonderful rest). coz goodness knows i always have a busy week on that period and i would rather celebrate my mom's birthday as ours is only a couple of days apart. as my earlier message goes... [i]a life truly lived is time truly spent on caring and loving in helping and giving in making a difference by touching people's lives. may you add more beauty to your wonderful personality and 31,536,000 more blessings for every second of every year added to your age. have a happy happy birthday my dear

[/i]

• Philippines
30 Jul 11
hello myles, Rest?I think it's not on my vocabulary not now sis because I know I have two shops to manage I will miss everything except going to church today. thanks for the greetings love it miss yah


• Philippines
30 Jul 11
they say the young are restless, in more ways than one. in time you will value what a good rest can do for you. but i won't press it. today is your day. celebrate as you will. do as you must. but come tomorrow, even goddesses have a rest day.

miss yah too sis



• Philippines
30 Jul 11
hello dear, It's fine we can have vodka as long as we want when you are here Don't forget the new set of whips

happy mylotting


• United States
27 Oct 11
I think we all get to a time when we just aren't as excited as we were when children to have a birthday. But I think your a little young not to celebrate. I had 5 children they are all grown now so if they live near me I take them to dinner. If not, I get a card and put a restaurant gift card in it for their birthday. That way they still get to have a dinner on me. I am late in responding to this so Happy Belated Birthday. HOpe you had a good day even if you were just good to yourself and did not choose to celebrate!

• Philippines
28 Oct 11
hi marie, Well my friends surprised me I had wonderful night ended up being drunk

thanks for the response and greetings happy mylotting


• India
30 Jul 11
Ohhh dear friend today is you birthday wow! "HAPPY BIRTHDAY TO YOU" so where is party sarty. Why you are not wants to celebrate your birthday God thrown you on the earth hahha

on this day, so this day is great for you and as well as for me because I also get a good friend due to you born hahah

. Send me a big cake like I sent you on my marriage anniversary.


• Philippines
31 Jul 11
hello surekha, thanks for the greetings and good words jaiho and other friends surprised me I had so much fun

happy mylotting


• Delhi, India
30 Jul 11
Hi bhabhy! Wish you a very very happy Birthday. Invite us to your place, we will make all the arrangements to celebrate your B'day. We will make it memorable.

• Philippines
31 Jul 11
hello dpk, even it's not my birthday you are welcome at my place

just let me know if you are around thanks for the greetings happy mylotting


• Philippines
30 Jul 11
I am not sure how many times I've already greeted you, And I don't remember since when I started greeting you, I only knew one thing... God blessed the day when I found you




• Philippines
31 Jul 11
hello jaiho, What else I can I say?

I felt so love yesterday Thanks for the unexpected party love you so much


• Philippines
30 Jul 11
Hi! Well, I do nothing special on my birthdays. I sometimes even forget it's my birthday.

No one in our family celebrates birthday. We cherish every day of our lives and not only during our birthdays. If you don't feel like celebrating, I think it's fine. Just take some moment to think about the happy things in your life and thank God for each day he has given and will give you. Happy day!

• Philippines
30 Jul 11
hello BB, This is not me I had a long celebration of my birthday before I don't know what happened to me well I never forget to give thanks to him even its not my birthday. thanks happy mylotting