How can I feel warmer swimming outdoors in cooler weather?

United States
July 31, 2011 1:58am CST
I love to swim and am trying to figure out ways to make it more pleasant when the weather gets cooler. Usually I avoid the pool when the weather cools but I would like to try to tolerate a bit cooler than I am used to. I have thought about getting a wet suit but they look so uncomfortable to take off and put on. I saw someone wearing socks in a pool and wondered if that could help?? I think perhaps wearing a long t-shirt might help, until one gets out of the pool. I hate swimming in the cold but I love the exercise so I want to try to make it as comfortable as I can. Any suggestions??
8 responses

• Philippines
13 Aug 11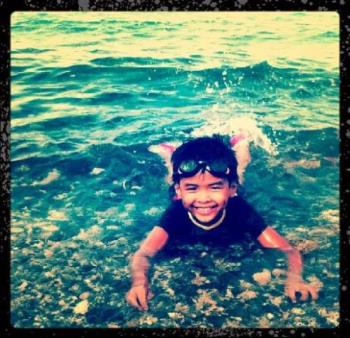 Well dear when you go swimming expect to chill when the weather is cold so better not swim when it is cool. Even if you put on socks or whatever, once your body and any piece of swimsuit you put on gets wet, surely you have no more way to feel warm. Summer time is the best time to swim so just do it during summer so you can enjoy it more.


• Australia
3 Aug 11
Like you I have avoided swimming in the winter, but I have had bad sinus problems and thought swimming would help. I was lucky enough to find a heated pool in my area and was able to get a few laps in - which has realy improved my health. Do you have any heated pools in your area? A stinger suit is another option - as it is lighter and cheaper than a wet suit, but will still give you some coverage. Just make sure you dry yourself as soon as you come out of the water and have some warm fleecy clothes to put on.

• Canada
1 Aug 11
I cant think of anything right now that would keep you warm while being in cold water besides a wet suit. The only thing that might work would be for you to have an indoor pool. Then you could use it year round. Maybe you could sort of build walls and a roof over your pool so that you could keep the water a bit warmer?

•
1 Aug 11
as you submerge your self into water your body will try to adapt to its temperature as well as this a a natural mechanism of our body to any changes... better do a warm up before staring to swim...this will help your body prepare for any work ahead... good luck my friend.


• Canada
31 Jul 11
Maybe a swimsuit in a heavier fabric might help or maybe when you go into the water, come from an airconditioned place. If you mean getting out of the pool or the sea, you could have your warm things right there so you can reach and put them on.

• China
31 Jul 11
I have persevered in having cold bath for more than 26 years, even if It is minus 10 degrees centigrade,I don't give up.However I don't do it outdoors but indoors and I take warm-up exercise before I have it.I think the warm-up exercise is certainly conducive to swimming outdoors.

• United Kingdom
31 Jul 11
Maybe you could wear a wet suit whilst you swim. That would keep you feeling warm and happy. I like to wear a t-shirt and swimming shoes when I go snorkeling. The reason I have the t-shirt on is to avoid getting my back sun burnt. You could have a go at wearing a t-shirt and socks to see if it makes you feel warm whilst swimming. When you end the swim try having a hot drink to keep you feeling warm. Good luck.