Believe in the honesty

Indonesia
8 responses

• Philippines
24 Sep 11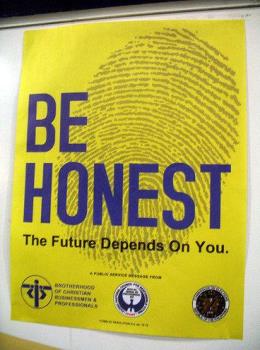 Why is it so difficult for many people to believe in the honesty of others? Well dear I think I only have two reasons why and I think it is either because the people around them have displayed dishonesty in the past and so they could not longer be trustworthy in the sight of others or the person himself does not know how to be honest so he can't believe others can be.

Honesty is such a lonely word indeed but it can't be lonely if people would strive to follow the motto "BE HONEST" at all cost. If only people are honest then we will have no problem in trusting each other.



• Indonesia
11 Aug 11
I myself have been exploited much earlier and I have relied on the word of others. Today it is so that I would rather wait until a time and see how the character of others is real. Many give themselves more outwardly loving and kind, but in reality many people are just plain sneaky and arrogant. You show it but not because they always want something from others and then adjust. The fact may also lie.

• Indonesia
10 Aug 11
Through much experience, behavior of others, media, experiences from other - Cheating - Business behavior - About friendliness - Own bad decisions - Questions of conscience Makes you wonder sometimes ..., who is at all from the ground up to be honest without being punished ... It starts in elementary school, when you invite a girl to the birthday, she unfortunately can not come because she has to learn .... Ne hour later you meet them outside with their friends to sit and do nothing:) And if you still pitch and then the parents are often dishonest, how do you think there ..


• Philippines
10 Aug 11
Because they always thought that they will be deceive by the others. It`s so hard to trust now a days.

• United States
10 Aug 11
Yes, I believe in honesty, My husband and me were watching a TV show where a couple have to hide a briefcase with two millions of dollars for 24 for hours, while the detectives are trying to get the briefcase,with the money, and they are in jail, being interview for the detectives in charged each thirty minutes, the last week we saw the same show but th couple cound't deal with all pressure of the jail and the interviews,the couple in this week the did it, they got the money because they kept saying lies to the detectives, then my husbnd told," I know that I can't go to that TV show with you" he says that because he knows that I don't know how to lie.

• United States
10 Aug 11
Because we live in a selfish world. Goodness is a wonderful attribute, however it is mostly the stuff of fairy tales. Granted, there are good people out there, but such are a rarity. Even I can't call myself selfless. People want to get ahead in this short life. A shortcut is be dishonest or to use others. Selfishness and the desire to improve one's standing are natural. Being 100% honest is unnatural.