Can we say Oreo?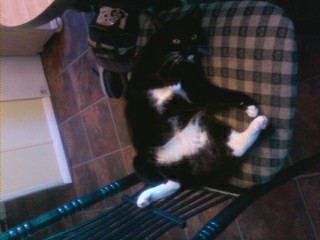 United States
5 responses


• United States
11 Aug 11
yea she is a double decker alright. I keep them on purina minerals and mixed with IAMS indoor food. Then I rotate a bowl of fancy feast dry as fancy feast has 3 different flavors. Sometimes they eat the fancy feast bowl and it might be a couple of days before they get another bowl cause I want them to eat their good food. Crazy cats! Tink is not fat like her. I swear she looks like garfield when she tries to run!

•
12 Aug 11
Very cute! Does she like eating Oreos too..?

• United States
13 Aug 11
LOL no Joe she LOVES Fancy Feast. But I keep both my cats on a strict feeding I don't get hairballs from them and doc says they are really healthy when they go in for their annual vet visit.

• United States
11 Aug 11
She is so cute! That is a great picture, she looks so comfortable!

• Philippines
11 Aug 11
Oh, is that your cat? I think he or she is cute! :) If I would chose a pet between a cat and dog, I would choose a cat too. Cat seems to be sweet and cuddly. If you are stressed or bored, you can just hold your pet cat and I like it when it murmurs. seems like he/she like it. Unlike the dog who barks. I know not all dogs bark all the time. Dogs are more popular pet here in my country than cats. Dogs are constant companions in homes and as farmers, they tag along their dogs in the farm. How many cats do you have? :)