the new pet in the house

Philippines
August 11, 2011 6:06pm CST
i adopt a little puppy and he is very cute and a lovely dog, i think about the future of this dog but i don't have any idea how to train a dog, I'm planning to bring this dog to the stage someday to participate in the dog show,
3 responses

• United States
12 Aug 11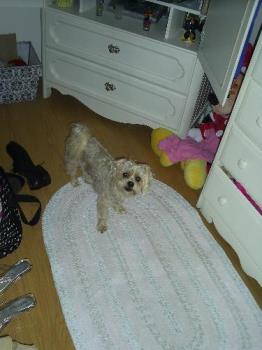 Training a dog isnt the easiest thing. Its like a baby or toddler in the house and just how you have to teach them how to use the bathroom you kinda have to do the same thing. Also if you know someone whom might have a dog around the same size as yours think about getting them together because one dog leads of another and really thats how they will learn. WHen ifirst got my little cockapoo i trained him with the pads they now have available and now he just goes on those pads and on the back porch but i do have a doggy door that allows him to go in and out on the back porch all day long so its easy for him.

• Italy
11 Aug 11
It 's always a thrill to bring home a dog, especially because it takes very little to become attached. As for the discussion of training, I do not can say anything else because they need only the love that gives you the dog to be well satisfied.

• United States
11 Aug 11
Well, I have never owned a dog, but I have trained my friends dog a little and you are doing the right thing by starting as a puppy. One thing I always did was give it treats if it did the right thing. For instance, if you want it to sit you might make a hand motion and push it down with your hands. Keep doing that until it does it itself and give it a treat. I hope I helped.