Very good for your skin

United States
August 15, 2011 7:15pm CST
I hear that strawberries are very good for your skin they make your skin look a lot younger and so on, I like strawberries because they have that certain taste to them that makes me like wow, especially when they are juicy you know they are very good. I don't like alot of strwberry sodas but I like to just eat the strawberries, like I don't eat alot of strawberry Icecream but my husband do he loves to eat them, speaking of whick I like to eat some right now but don't have any at the time and I don't want to go to the store. I guess I will get some soon.. LOL
6 responses

• United Arab Emirates
25 Mar 12
It is really great that what we like to eat has a lot of healthy benifit.

• Philippines
18 Aug 11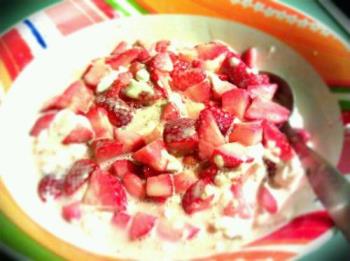 Yes it is really true. Strawberries are good for skin so you should eat a lot if you want younger looking skin. I am not very fond of eating fresh strawberries although I know this is very rich in vitamin c. But very cold fresh strawberries with all-purpose cream tastes great. The cream neutralizes the sour taste in strawberry so I like strawberries when prepared this way.



• Indonesia
16 Aug 11
I love strawberries, it is one of my favorite fruits. If im not mistaken strawberries are rich with vitamin C and it can help to reduce dark spot on our skin such as blemish, it helps to smoothen our skin and also to make our skin looks fresh and bright. I only like to eat fresh strawberries, I never tried strawberry sodas but I love strawberry juice.

• United States
16 Aug 11
I never heard strawberries were good for your skin but they taste real good. I actually kind of like strawberry pop but not alot, strawberry and banana smoothies are my favorite.

• Australia
16 Aug 11
I didn't know about the enefits to the skin! But that's good to hear as i just gave my son strawberries as that's all he wanted to eat for breakfast and i thought since it's fruit it's just as good as any other breakfast! I also love the taste of strawberries! I have never heard of strawberry soda? I don't think i would like that but i do like strawberry daquiris!