What is the KEY to be HAPPY?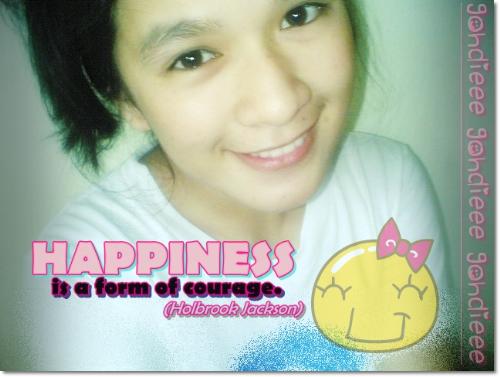 Philippines
August 21, 2011 12:53pm CST
What do you think is the purpose of life? It is to become HAPPY. Regardless of WHO you are or WHAT you are, we all have the same desire deep in our hearts and that is...to be HAPPY. But here's the thing, WHAT really can make you happy? As we all know, LIFE certainly is very hard to deal with. Life alone is so complicated. The truth is, we live in a world crammed with pessimists, a place full of negativity. A world surrounded by people who see the glass as half empty. Lots and lots of complex issues, escalating difficulties, and mounting trials that we encounter each and every day of our lives, making us feel like giving up and stop thinking about HAPPINESS. I realized that the key to be truly happy despite the cruelty life gave us is COURAGE. Real courage is not measured by facing an enemy outside, but by facing fears inside. To be truly happy, we must build a strong inner self that no trial or hardship could ruin and it begins with having the STRENGTH to fight and conquer one's own weaknesses. COURAGE allows us to persevere, gives us the POWER and PERSISTENCE to effectively deal with setbacks and, most importantly, rise above life's most challenging obstacle. Before I end this discussion, I would like to share a poem entitled "HAPPINESS" written by a Buddhist Philosopher named Daisaku Ikeda. HAPPINESS A person with a vast heart is happy. Such a person lives each day with broad and embracing spirit. A person with strong will is happy. Such a person can confidently enjoy life, never defeated by suffering. A person with profound spirit is happy. Such a person can savor life's depths, while creating meaning and value that will last for eternity. A person with a pure mind is happy. Such a person is always surrounded by refreshing breezes of joy.
3 responses

• Taiwan
18 Oct 11
Pretty Mary , I agree with what You said , and the poem is beautiful, but . Its true, Happiness is inside of us and we have to cure and deal with so many fears that we have to find the real happiness. Also we have to fight with the negativism in the world and make your believes strong and have a big courage to face whatever comes to our life , good or bad , Lets dont forget to give thanks for all we have.

• Philippines
18 Oct 11
Thank you for your very nice response :)) You really are correct. We have to fight the negative thoughts we have and we must believe that we are strong enough. Have a great day. Happy mylotting.


• Philippines
21 Aug 11
Yes, proper attitude towards life indeed! I think so too. Thanks for sharing your thoughts :) God Bless.

• Philippines
2 Nov 11
Thanks for sharing. For me happiness is within us all. It comes from the depths of our hearts and is not dependent on people, things, or what the life can offer us... instead happiness is what we can offer the world. When we are confident, when we know we are with God's love, when we do things for other people without expecting anything in return... when we basically share what we have and not expect people to give us what we thought we need... we would be genuinely happy, right? sometimes though we tend to think that happiness is when we have partners, when we have career success, when we have material wealth... For me, happiness would be to have peace of mind, to have God's comfort and love everyday... and to be worry free...