Isn't life great?

United States
August 24, 2011 5:57pm CST
Don't you guys think life is great, I think it is, I forgot to start this discussion today, But I just found out I'm pregnant a few days ago. And I'm really happy, I mean I want to scream from the top of my lungs, I'm finally going to start a family, I posted a discussion a few weeks ago about how sscared I am to have a baby but I'm not anymore, Can you guys help me and think of some baby names, if it's a girl I'm going to name her Nova, but me and my husband havent't came up with a boy name if it's a boy, I'm so happy, I just can't wait to start my very own family, I love babies, and know I'm going to have my own!!!!
6 responses

• United States
24 Aug 11
Hey congrats! There is nothing quite as great as having a new life in your hands that is all your own! I am very happy for you! I wish you a safe birth and a 100% healthy child! Nova is very unique and it is a strong name. I have never heard of that name before but I have to say I love the sound of it! Furthermore when I think of nova I think of stars and the heavens - what a great association for a name to have! :)

• United States
24 Aug 11
yeah I think nova is a really beautiful name

• United States
28 Aug 11
sorry i have no baby names either...i actually think i may be pregnant which is why i know i don't have any names lol...but i think your name idea is very creative :) good luck with your pregnancy

• Philippines
27 Aug 11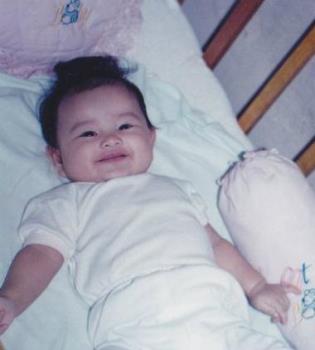 So this seems to be your first baby ever! Congratulations! I understand your happiness because I also experienced that the first time I learned I was having a baby. It is the most beautiful thing that would happen to a woman. I hope your baby will be healthy till the day you deliver her or him to this world. When she is already born, another wonderful moment you will experience for sure. Just wait for that time. The moment you see your baby for the first time you will feel a different kind of happiness. And all the more the first time you see your baby's first smile.


• United Kingdom
26 Aug 11
Congratulations on the news that you are pregnant. I hope that you will have an enjoyable, memorable and healthy pregnancy. If you have a baby daughter I like the name Nova. For a baby boy I like the names Ashley, Harvey or Rory. I like girls names like Angelina, Emily, Holly Lauren and Tara. I am really glad that you are so happy and looking forward to having your little baby.

• Thailand
25 Aug 11
I'm very happy for you bluegemini!

Take good care of yourself and the baby in the next coming weeks. Your first tri-mester is the most delicate stage. All the best! And don't stress out!


• United States
25 Aug 11
Congratulations on being pregnant! I wish you and the baby many blessings and great health. As for names do stick to something you really like and find it meaningful for you. My daughter was name with the first part of my first name and the middle name together as her first name. It is the only thing my ex-husband did right. lol I am sorry I cannot suggest because what I may like you may not, but many, many best wishes to you with your new baby. Wow you will have a lot to discuss here in nine months and after too.