Wild rescue, I'm already a cat rescue magnet.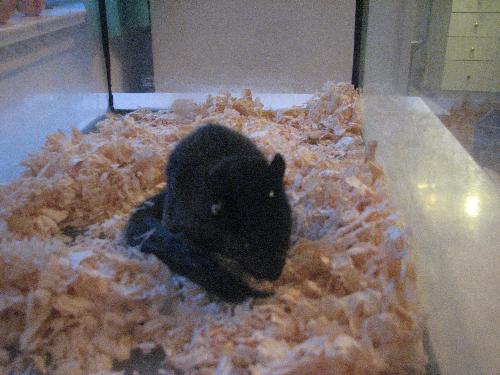 Canada
August 30, 2011 6:57pm CST
I am a rescue magnet I've said it before, but this time it's different. Hard to see, but in the picture is a very young squirrel. Yes a squirrel. While on the job site today, I walked into the shed and found him trying to climb up on the gas can. I picked him up and he latched on to me immediately. He climbed all over me, and even got so bold as to bury himself inside my bra once he got into my shirt. Yikes, what a feeling. I brought him home and after getting information from Pet Valu, starting feeding him kitten replacement milk. He downed it like he hadn't eaten in a long time, which I'm sure he hasn't. I'm glad I found him instead of him dying out there. I'm hoping to get him back to health and then release him outside before the winter.
5 responses


• United States
31 Aug 11
Next thing you know our friend Kris will bring home a raccoon, or a grizzly bear, and neither of them house train well at all.

• Canada
31 Aug 11
I wouldn't even go that far, haven't even seen a raccoon at all this year. I wouldn't keep him, if they are as destructive as I've been told, it would be horrible around here.

• United States
31 Aug 11
Oh my that sounds so cute! Wow you have this thing with pets that they sense how caring and nurturing you are. I am glad to hear that the squirrel is doing great and soon it can go about outdoors.

• Canada
31 Aug 11
He'll be going to a wildlife center probably tomorrow and will be released in the wild once he's old enough to go.

• United States
31 Aug 11
I hope that works out for you to get him raised and out before the snow flies. Hopefully he does not get overly dependent on you for food and such and that other squirrels around do not attack him as being a stranger in their territory.

• Canada
31 Aug 11
I'm worrying about that too. I'm not sure when I should release him, and I hope he doesn't get too attached. He might, and that concerns me. I don't think we're allowed to keep squirrels as pets up here.

• United States
31 Aug 11
Do you have a department of Wildlife and Parks? Some such title like that could possibly tell you what to do with him. Otherwise I would look into a zoo as a home for the little guy.


• United States
4 Oct 11
I think it is great that you keep rescuing all these critters. Has this little fellow gained strength by now? I hope that he is able to survive in the wild if you do release him before winter. Have a great week!!!

• India
31 Aug 11
kris -- hats off to you. Many of us fear to touch and deal with squirrels. You have taken interest to bring him to your house and are taking keen interest in him.