Deciding on favorite colors

United States
August 31, 2011 12:46pm CST
How do we decide? Some people go by what color clothes they look best in.Other's decide by what colors they are attracted to. My favorite color is turquoise/teal.That shows that I have a native american heritage.I am attracted to turquoise teal and earth like colors as well.For instance the best color for eye shadow are brown and beige.I pick out beaded and turquoise style jewelry.Turquoise and native anerican style household decor. Do you have a favorite color? How did it become your favorite?
7 responses

• Philippines
2 Oct 11
My favorite colors are not what I usually wear. Because my favorite colors are different from the colors that suit me best. My favorite colors by the way are pink and silver. These are the colors I want for my bedroom and my things. But as for the clothes, I have my own set of colors that I use when picking my outfit. Many people have told me that I look glowing and more noticeable whenever I wear dark colors like maroon red, dark blue, black, and some other dark colors. So I always wear those kinds of colors.

• United States
2 Oct 11
My daughter and oldest granddaughter love pink,especially hot pink!

• United Kingdom
2 Sep 11
I had to wear brown and yellow when I was at primary school. I didn't look good in those colors. I preferred my secondary school uniform: navy blue and gray. I like the sea and the sky. I am keen on grass and trees leaves. So my favorite colors are blue and green. I like black for clothes and blue and green too. I like a beach hut kind of style at home. I am attracted to teal and turquoise very much indeed.

• United States
18 Sep 11
Yes,blue and green are very much close to teal or turquoise.I guess that you don't like brown and yellow,because you got tired of them too.Possibly you didn't like your primary school very much,they say that if a color is connected to a bad experience you won't like it.The same with a letter,number,name,car,house style,food or whatever.


• United States
2 Oct 11
I am not much on dull colors either,I like things to be bright.

• Philippines
1 Sep 11
My favorite color is yellow. I did not choose that because I look good in yellows and stuff but I chose it because I just love the color. I don't like some shade of yellows though because it can look tacky. Since I was young, my friends was always giving me a hard time about it because they say that yellow is 'yuck' but I love it. I don't meet a lot of people with yellow as their favorite color.

• United States
18 Sep 11
My late husbands favorite color was yellow to.It is bright,the color of the sun.I like it.

• Philippines
13 Sep 11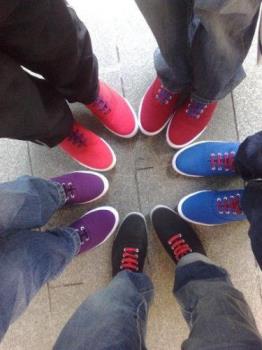 I am basically a happy person and so I want happy colors as well. I am no fan of black or gray certainly. Neither do I love brown colors. I do love happy colors like yellow, orange, pink, apple green,pink, red, aqua blue and the likes and that of course is reflected in the colors of my shoes, bags and clothing.


• South Korea
5 Sep 11
My favourite colours are black & red and purple. I have no idea how these colours became my favourite colours. I think I just like the way they looks. I think they are dark and really attractive while looking at(?)

• Singapore
31 Aug 11
I have a few favourite colours. I think it's not a matter of deciding but rather it's a matter of what colours I am attracted to. I look good in black but it's not one of my favourite colours.