Kids need to be trained at very young age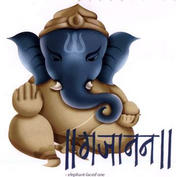 India
September 1, 2011 12:58am CST
Today is birthday of Ganesha, our Hindu God with elephant head; he is supposed to give us wisdom and knowledge. Today is known as 'GANESHA CHATURTHI' festival, in some parts of India this will be observed for 10 days, one can see his beautiful idols made mainly from earth, also from different materials. Subhee will complete 3 years soon, she goes school. Today all schools, colleges and many offices are closed to observe this festival. Subhee was ready to perform puja (worship) of Ganesha by 6am after bath etc. We set in front of an idol of Ganeha, first holy water from river Ganga in north india was sprinkled over it with a flower, this is bathing. Next sandal wood paste was applied followed by sindoor (red vermillion). Next flowers of different colors were offered. Next a wick lamp (cotton wick dipped in pure ghee, Ghee is clarified butter oil ) was lighted and lighted incense stick were shown to the Idol. Next sweets were offered and coconuts were broken, the sweets and coconut pieces were later distributed to all members in the family and to neighbors. Next we prayed, touched our head on floor, which is the way of surrendering oneself to our gods and goddesses. I asked Subhee, what you told to Ganeshji?

Her answer was, I said give me knowledge, money and a brother to play.
How sweet, her mom is pregnant, expected date of delivery 3rd week this month. Kids are innocent; we need to train them, tell them about our cultures, traditions at youngest age possible. Tonight I will tell her the story about the elephant head of Lord Ganesha. In any festival any kind of celebration, puja in our homes, Ganeshaji is worshipped first, you can see statue or idol or picture of Ganeshaji at the entrance of most Hindu homes.

[b]What is your opinion? Please comment on this. Thanks in advance. HAPPY GANESH CHATURTHI TO ALL.[/b]
Professor 'Bhuwan'.
.1/9/2011
5 responses

• Boise, Idaho
2 Sep 11
You must have some very lovely festivals in your country. We have Halloween coming up and that is the festival of All Saints Eve. We decorate with carved out pumpkins and skeletons and all manner of scarey stuff. The kids dress up as any favorite character and go trick or treating for candy.

• Malaysia
5 Sep 11
It is good that Halloween celebration is around the corner again. My son just loves that craved cute face of pumpkin which i make and decorated in my home during this festival. Here, not many people are celebrating Halloween. Just a few of us, just for the fun of it...

• Boise, Idaho
5 Sep 11
Well, glad a few are. It is a fun Holiday for the kids.

• India
5 Sep 11
Recenly a friend in Iowa sent me some pictures of carved pumpkins


• Malaysia
5 Sep 11
Hi Professor, indeed kids should be trained from a very young age. At least, they understand and behave well when they are grown-up. I had taught my son to pray since from the age of 2. Although he don't really knows how to pray very well, at least he understand why people should be silent when praying. Teaching children from a very young age is not easy but through patience and motivation, we will be able to teach them successfully.

• India
5 Sep 11
You are doing the right thing,

as parent it is our duty..


• United States
2 Sep 11
I know alot of kids who don't know alot or anything of their culture. I think some parents just don't think it is important or they don't know much about their back ground! I know alot of my back ground and I am proud of it! My family doesn't have alot of traditons and we aren't extremely religious. I think it is a great idea to teach children about their culture as soon as possible!

• India
5 Sep 11
Thanks for sharing your views, i honor it Best of luck.

Professor

• India
1 Sep 11
HAPPY VINAYAK CHATURTHI uncle and Jai Shri Krishna Yes this is a good habit to teach the small age child about God pooja in my mothers house my brothers daughter is only 3 years old but she knows the Aarti of Ganesha and our Ramdeo Baba Aarti she sit daily with my mother for doing pooja. We are Maheshwari so Shri Krishna and Ramdeo Baba is our God all are important for us. Without Shri Ganesha no work is start because like marriage ceremony, inauguration of office etc. Today the main prasad of Ganesha is laddu that is called modak. We make this and put in front of God. We pray from God do the blessings on us always.

• India
5 Sep 11
Surekha beti

Wish i could go to you and eat some modak!!

Thanks for sharing Best of luck.

Professor

• India
1 Sep 11
yes kids must be inculcated good moral values from an early age.Its easier to teach kids before they are 14 years. Thereafter it becomes more difficult to teach them.The lessons they learn at an early age will remain and make them move towards leading a more disciplined life.

• India
5 Sep 11
I agree proper training must be given from very young age Thanks for sharing Best of luck.

Professor