Shoe Sizes

5 responses

• Philippines
13 Sep 11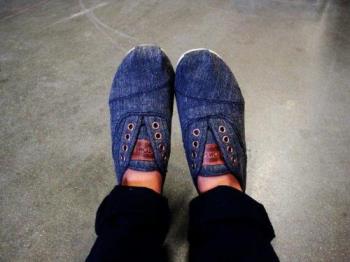 Of course we should wear shoes that has perfect fitting on our feet lest we strain our feet and even ruin our posture. There is nothing bad than walking with badly fitting shoes so whenever I buy shoes I make sure they are of my size, fits comfortably and also of good design.


• United States
10 Sep 11
Hi, neverstar. Welcome to myLot!

In a way, it could cause problems down the line because the shoe is too big. I may make a person's feet wobbly. It can also allow the heel to rotate and go out of proportion. I think that wearing larger sized shoes can allow the feet to shift dramatically somehow.

• United States
6 Sep 11
Wearing tight shoes is definitely bad this can crush the bones in our feet together it can always cause bunions and corns, wearing shoes a bit bigger than your feet is good your feet has space to breathe and your toes. My father always told me as a young child to always a get a shoe or sneaker 1 size bigger than my feet because it's comfortable and I wont have any foot problems

• United States
6 Sep 11
yes and i know this because i have experianced this myself. I had a pair of shos that i couldnt wait to wear and they still to big and by the end of the day my foot was hurting and i had a cut on my thumb