Do you like watching beauty pageants?

Philippines
September 12, 2011 11:03pm CST
I am not really a fan of beauty pageants, I do watch some, sometimes, but I'm not crazily excited over it. Like this Miss Universe 2011, everyone is talking about it. I heard a lot that it will be a spectacular event in Brazil and that everyone will be watching it. If I catch it and I am still awake at that time then why not, I might watch it. Or maybe because some are also fans of the beauty pageant contestants, or are supporting them for the country they are in. Were you able to watch it earlier? Congratulations to all winners!
5 responses

• Philippines
14 Sep 11
i watched the pageant yesterday and our miss philippines placed 3rd runner up. not bad though because its really hard out there and being a part of the top 5 is an achievement. well, i'm not really a fan of beauty pageants but i do watch because of the question and answer portion. i would love to hear what the contestants would say about the judges questions.

• Philippines
15 Sep 11
It is really a difficult competition because there are a lot of great women out there and if I am one of the judges I would be challenged to choose who I will vote as the winner. The question and answer portion is also one of the most awaited parts of the program. People want to know if there are brains behind that beauty.

• Philippines
13 Sep 11
I'm also not a fan of beauty pageants. I just read some posts in Facebook about the winners. But I like to watch those funny and unforgettable moments in beauty pageant. Like what happened to Miriam Quiambao of the Philippines.



• Philippines
13 Sep 11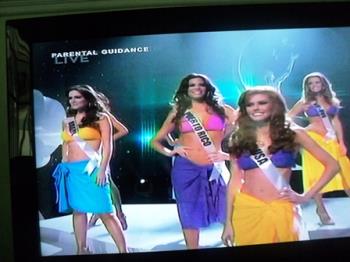 I am a big fan of international beauty pageants. I just watched the Ms. Universe 2011 and could not help but cheer and shout because our Ms. Philippines made it to the top 5 and came out 3rd runner up. The event is well attended as usual and it was presented very beautifully, no dragging moments at all, each moment is exciting and worth watching. I enjoyed the pageant.

Ms. Angola, the crowd favorite won the title.