Have you heard a dog called Shunsuke?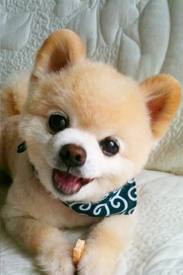 Guangzhou, China
September 20, 2011 3:23am CST
Shunsuke is a Japanese dog and he is just so adorable and innocent. He has become so popular. Have you heard about him? Some people say he looks like Odie. Have you heard about Shunsuke?
6 responses


• South Korea
20 Sep 11
OMG that is the cutest dog I have ever seen. No, I hadn't heard of it before but my is it a cutie

aww makes me wanna cuddle it. It looked like a stuffed toy though hehe!

• South Korea
20 Sep 11
Yeah and that is thanks to you


• China
20 Sep 11
Oh!I am so ill-informed.I haven't heard of Shunsuke.How come both japanese dog and japanese cat should become stars?

• China
21 Sep 11
So far,I haven't gone in for micro-blogging.I don't have too much time.

• Philippines
22 Sep 11
The pom-pom dog who have 40000 twitter follower and look like stuff toys? hehehe this dog was amazing at first i cant believe it is real dog but later on i cant help but this dog has life.

•
20 Sep 11
Wow! This dog is for real?? So cute. I thought it was a stuff toy. It's my first time seeing him. I want to have one exactly like that. So he's only in Japan? Too bad for me, can't see him in person. :(

• Philippines
20 Sep 11
I saw this photo been posted in facebook and I thought at first this is a stuff toy. Then, my kids search for this pup and yes it is true one.. It looks so cute and I would like to have one as a house pet.