Friends are important.

China
September 21, 2011 6:52am CST
Friends are gold,silver friends,friends, sun, friends, is the moon. Friends are the stars.A friend to the black in your bank when you light a light person.Friends will not because you are now in a difficult period,and away from you people. friends will not because you are in the low life time and abandon you.
6 responses

• Romania
30 Sep 11
We can not choose family, but friends did. Because they are, after all, our spiritual family, our mirror. Precisely because we can choose us ... Our image and likeness. But friendship is not true if such a relationship does not know total fulfillment and it would materialize in overcoming feelings of fear. Let us look at the fear of emptiness and futility in all defects, faults and our weaknesses. Because friendship is a confrontation with the limits of their sincerity. Friends are our mirror, the mirror that shows us how relentlessly and without hiding love, how much confidence we have in ourselves and in others, as we forgive. We are attracted occasionally by various people, we have friendship, good knowledge and not infrequently I see people taking in vain the name of friendship, arguing loudly that every note he is a friend, depending on the circumstances and ... especially of interest. In a genuine friendship, we are constantly under the microscope, we come out weaknesses, we discover the true face of the watershed moments. Ours and friends around us. Friend who makes us laugh is a tonic that helps us with a kind word and advice when we need them is the balance which we yearn, who understands and encourages us is that we are extending the hand protector. But the friend who encourages us to discover the best in us is irreplaceable.

• Beaconsfield, Quebec
26 Sep 11
It is true that friends are important. It's really nice to know that you have friends that you can turn to. It's nice to spend time with them, and just have some fun. It's difficult for me to imagine what it might be like if I didn't have the good friends that I have, or no friends at all.

• Philippines
24 Sep 11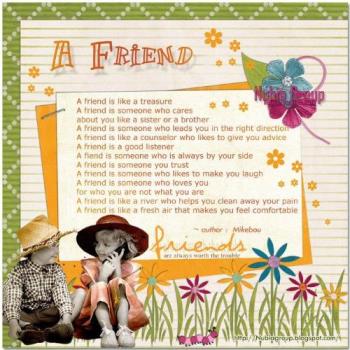 A friend sent me this card which states what friend is all about. I think this confirms the fact that friends are important and answers the question why do we need friend. Now if our friend do not match the things written in this card then I believe he/she is not really a friend.


• Singapore
23 Sep 11
Yes, friends are impt. But not all friends are true friends though. Friends who are there for you when you are at the lowest point in your life are definitely true friends, and such friends are very impt.

• United States
21 Sep 11
Friends come and go but family will always be forever by your side. Even thought friends are important to have so is your family. I do have alot of friends too but they do come and go in my life and some i do talk to on a regular basis but most of the time i dont always talk to my friends but my family more because im with my family more than i am with my friends. I see you are somewhat new to mylot so happy mylotting and good luck.

• Bulgaria
21 Sep 11
friends are important. always help friends in difficult times. and friends are the ones we can count. whenever I need help I'm looking for my friend and godfather to my children that Eli is my golden friend and proven over time. I am always glad when people write about their friends. nice day!