AVATAR Doing Disney!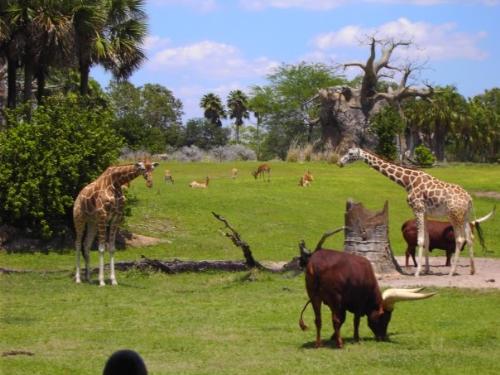 United States
September 21, 2011 12:43pm CST
Disney's Animal Kingdom has 7 lands: Camp Minnie-Mickey, Dinoland USA, Rafiki's Planet Watch, Discovery Island, the Oasis, Africa, and Asia. Recently, they are throwing in another land: a world based on the movie AVATAR! James Cameron's Lightstorm Entertainment and Fox Filmed Entertainment, the folks behind the film, will rub shoulders with the world-renowned Walt Disney Imagineers to create this themed area. Construction is proposed to begin in 2013 (despite the 2012 hype the world will not be dead at the time, I promise). So why a Fox film would be made into a wonderful land for a Walt Disney World theme park, you ask. DAK has themes of adventure, environmentalism, and nature, which AVATAR has. I believe that such a land would draw gigantic crowds, especially if there are high ticket rides to go with the land. I predicted that the first few months of opening would be more or less no different from those of The Wizarding World of Harry Potter's. (It's a themed area based on a Warner Brothers film series in Universal's Islands of Adventure at Disney's rival resort Universal Orlando.) When I went there for the first time a few days after public opening on June 18 of 2010, I faced huge crowds as well as Brazilian tour groups, as it was winter vacation in their nation. So, I think it would be a popular draw when open. What do you think of the new land at DAK? What rides do you expect to see and experience? Would you want to go there, if you have the chance? Source http://disneyparks.disney.go.com/blog/2011/09/avatar-coming-to-disney-parks
4 responses

• India
22 Sep 11
Wow! That really amazing. The world that was shown in Avtar was so so beautiful, after I saw the movie, I used to dream a lot about that kind of world and wished it were a real one that I could visit sometime. Now Disney is turning it into a reality, a paradise for children as well as adults! Three cheers to Disney!




• United States
22 Sep 11
You remember the immortal words that Jiminy Cricket sang at the beginning of Pinocchio: when you wish upon a star, your dreams come true. I'm glad that Disney is making your dream for an AVATAR-themed land come true! I predict that you'll enjoy it fully because you admire the setting of the movie!

• India
4 Oct 11
Thanks for your lovely comments and for reviving the memories of the beautiful song! I am truly glad that such a world is becoming a reality, although a bit sad because I am not sure I can afford the trip, but still I can watch Avtar again and again and relive the beauty

of it all!

• United States
21 Sep 11
You are correct about the 7 lands and i guess there will be 8 starting in 2013 when the construction begins on this project. Im so excited and this is the first i have heard about this. I get dinsey passes everyear and lvoe it. Living so close to Orlando is great because there are always so many things to choose to do. Im glad they are adding on because new things are great and exciting and good to do as well to keep guests coming for more and now they will keep coming because there is going to be more excitement to talk about too and also to take pictures off as well LOL. Im a big disney fan and am excited about the upcoming project.

• India
4 Oct 11
Wow, only an hour away from the fantasy world, you are one lucky person!


•
21 Sep 11
WOW, i think that would be amazing. I would definetely go there if i had the chance, i've been before but that would draw me back! In my opinion the land wouldnt need rides, if they got the scenery right it would be (sorry for the cliché) magical. There could possibly be a simulator where you become the avatar, that would be pretty cool. I say they dont need any rides because, as an avid reader of the harry potter series, just being at The Wizarding World of Harry Potter was amazing, the rides were just a bonus. Anyway, Im looking forward to see how things go!

• Malaysia
22 Sep 11
wow..this is good news...Fantabulous... will surely be there to enjoy when all is ready to go..