Saying "I love you" - less of what it should be said for.

Philippines
September 24, 2011 8:06am CST
Nowadays, I have always been hearing people saying "i love you" just like saying "hi" to an acquaintance. I just don't agree with it to be used just as careless as it has been used these days. When people that are not really close to me tell me "i love you" in a manner of a baby talk, it's like I cringe inside of me because I know it didn't come from his/her heart. For me, it has been overused and the supposedly meaning of it is beginning to be shallow for some. Just a thought.
5 responses

• United States
27 Sep 11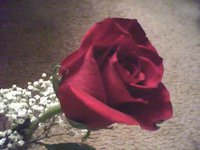 We had a family friend growing up and every time she saw us she would say I love you so many times in the the same visit that it really lost it's meaning. It sort of became a joke...don't get me wrong we did and do still love her, but we don't think it needs to be said so much in such a short time. I have raised my children to be very loving people, we tell each other I love you, but not ALL the time. When we're done talking on the phone, when we're leaving each other, or at the end of an email or text. It has a lot of meaning when it's said in that way, but not if it's just to be saying it. I was not raised in an overly loving home, we loved each other but there wasn't a lot of hugging or saying I love you, so I wanted to make sure my children came from a loving home and that they knew it. I think it's important to tell those people that you love that you love them, but it needs to always be sincere.

•
24 Sep 11
Yes, I consider those words sacred and it should only said to people whom you really have intimate connection with. It can be said to a member of your family and most importantly, to your love partner. But to say it to just anyone, it sounds inappropriate.

• China
24 Sep 11
in my country,saying "l love you"is seldom.i think it is the atmosphere of society that make this different.

• Bulgaria
24 Sep 11
to today said I love you very often but many people do not experience these feelings and they say they just love. that's not nice and does not speak well for them. I think to say such things you need to feel real isilno to love to tell someone they love. ho sometimes better than a pause to say a lie. nice day!

• United States
24 Sep 11
I feel some people may use the phrase to frequently. I think for me it is used right n time. I don't love a lot f people so I don't say this often. I tell my mother,daughter and Adrian I love them all the time.