What is with people buying shoes too big for their feet?

United States
September 27, 2011 4:02pm CST
Today in class I was looking at my desk taking notes and I noticed that this one girl's flip flops were way too big! This just so happens to be that same annoying gum chewer from one of my other discussions. I was looking at her flip flops and saw that they were about 2 sizes too big and she had like 2 or 3 inches of shoe left behind the heel of her foot! Maybe Old Navy didn't have her size but she really wanted that color so she just bought the next size they had? I really don't know but they look ridiculous. This isn't the first time I've seen people with shoes too big for their feet. Mostly, I've noticed it when a guy wears flip flops or sandals. To me, wearing bigger shoes would make it harder to walk and I'd feel like my feet would slip out of them. What do you guys think?
3 responses

• South Korea
28 Sep 11
I don't really know why she wore big sized flip flops but yes I have seen mostly guys wear big sized footwear lots of times. Actually most of the times I go to buy shoes, I don't really get them in my size coz my foot is right in the middle :// So I either have to buy a bit too big one or a bit too small one. I usually choose a bit too big. Some of my sandals are a bit too big, and one boot too but it's ok with socks in the winter


• United States
28 Sep 11
Yeah, I can understand being in between sizes and having to choose one or the other. But buying shoes 2 or more sizes too big is just plain silly. She looked absolutely ridiculous and I almost felt a little embarrassed for her

• United States
16 May 12
Actually I wear a Medium and I noticed that I have an inch or more in back than usual with my new green lantern flip flops, but the S didn't fit. I'm totally unsure but whatever the problem is may have something to do with the manufacturing system for U.S. Sizes.

• Philippines
7 Oct 11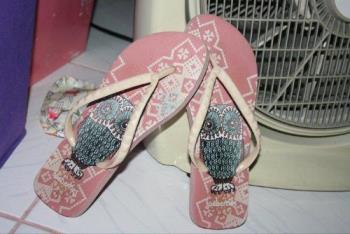 This girl must be having so many things that really annoy you ha!

ha!ha!ha!

I just really wonder why there are annoying things found in just one person. Well anyway, I also noticed this in many people. They are wearing flip flops that are inches longer than their foot so I am wondering if they only borrowed the flip flops. But I know one person who really buys flip flops which are at least an inch bigger than her size. She says she finds it more comfortable that way. I could only laugh at her because I can't be comfortable if the flip flop does not exactly fit my size.