Do you have any 'learning to swim' horror stories?

Canada
November 20, 2006 11:11am CST
How did you learn to swim? Is your story funny or tragic?
3 responses


• Canada
21 Nov 06
Just because you can't swim DOES NOT make you a failure. We easier on yourself

• United States
24 Nov 06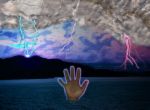 Yes. My mother drunk boyfiend believe in the sink or swim method. We lived in Florida with all those alligators. I was thrown around in a over grown weed infested river where people were not allowed to swim due to wild life...it went on for over two hours! By the time I was finally thrown back to the shore, I climb on the edge and fell asleep from being over exhausted. I hate swimming in natural bodies of water to this day. But I can swim like a fish...no thinks to him! BTW, I was only 6 yrs old.

• United States
21 Nov 06

i had a few classes when i was little...i really don't remember much. but i remember when i was little my sister dared me to touch the bottom of the pool on the deep end (8feet) so i used the lader to help me get down there...when i came back up i bumped into my sisters butt, then when i moved to the side, my sister moved too...needless o say i was running out of air by that point. by the time i came back up i was a little dazed...and yelled at her because i told her she was trying to drown me with her butt!!